The Croquet Association (CA) is the national governing body for the sport of Croquet in England.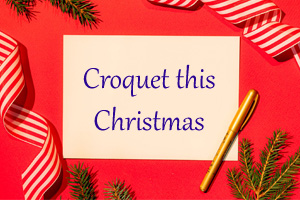 Christmas Cards are on sale now
We Wish You a Very Merry Christmas From All of Us Here at the Croquet Association
Why not order your Christmas cards from our very own Croquet Association Shop today. Now stocking jewellery and Championship Croquet Sets for your own garden, browse for other gifts and croquet goodies too.
Welcome to Croquet!
What is croquet all about - and why should you give it a try?
Croquet: six hoops, four balls, two mallets and a patch of grass.
Sounds easy enough.
Croquet is a game of skill and strategy, angles, tactics, guile. A bit like snooker on grass. Will your balls get through the hoops and peg out before your opponent's?
Croquet offers sport, friendships, fun, competition and a whole lot more.
To see what we mean, please watch the adjacent short film. With over 200 clubs nationwide to choose from, look up your nearest club to find out more about the outdoor sport that keeps you physically and mentally fit, providing a competitive yet sociable environment.
Latest Croquet News
---