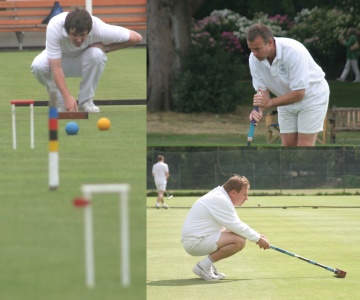 The large number of Association Croquet, Golf Croquet, Short Croquet, 14-point and one-ball tournaments around the country caters for all players who wish to play the game in a competitive forum, whatever their standard of play. For rankings, see the separate section
Coronavirus
Please see this advice about the impact of Coronavirus on the tournament programme.
Individual Competitions
Most individual competitions are open to playing members of CA Member Clubs as well as Individual Members of the CA, however, Premium, Overseas and Young Person Members of the CA, and overseas players claiming reciprocal rights through the World Croquet Federation, are entitled to priority entry and lower entry fees.
Once the fixtures book has been published, online entry is available for tournaments at all clubs. If you are unable to enter online you should submit a Tournament Entry Form to the relevant tournament secretary. Players who are not members of the CA will have to register to use the online system. Any enquiries should be directed to the CA Office.
Championships
National Inter-Club Events
The CA runs national inter-club events, which are open to CA Full Member clubs and cover all standards of play and forms of croquet.
Tournament Management
Tournament News and Results
Please refer to the notes on reporting results and news.
---