This area of the website provides easy access to news and information suitable for media news items and features. We hope the information you are looking for is here, and you are free to copy and use any information or pictures in this section of the website unless stated otherwise, except that there are restrictions on the use of photographs in the photo library - please see the copyright statements in that section.
If you need any further information, or would like a suitable quote, please contact the CA Office. An alternative contact is the Chairman of the Marketing Committee.
Please feel free to explore the other sections of this site and discover the world of croquet. For an overview of croquet, read Introduction to Croquet.
The principal events are contested by the top players - see the Current UK and World Player Rankings.
Resources: Library of croquet photographs, Technical Jargon.
News: Association Croquet Championship News, Golf Croquet Championship News, Growth and Recruitment Strategy, News Menu, The Croquet Gazette.
Latest Competition News and Results

More news...
Details
Jose Riva won the Championship of Surrey
by Samir Patel at Surbiton Croquet Club
4th August (AC - Championships)
Jose Riva

Jose Riva
+26tp +2

Jose Riva
+26tp +2sxp

Jose Riva
+13 +17qp

Jose Riva
+24qp +2tpo +26tp

Andy Dibben

Robert Wilkinson
+3 +26tp

Robert Wilkinson
Mark van Loon

Mark van Loon
+4otp -17 +16

Andy Myers
Samir Patel

Samir Patel
-15tp +22tp +4tp

Samir Patel

-13otp +26qp +17qp

Mark Ormerod
Paul Castell

Christian Carter
+2 +26stp

Christian Carter
David Maugham

David Maugham
+2 +26tp

David Maugham
-26tp +15tp +8

David Maugham
+18 -8tpo +10tp

Richard H Smith
Joel Taylor

Joel Taylor
+20tp +5tp

Jeff Dawson
+20tp +5tp

Ian Plummer
Chris O'Byrne

Jeff Dawson
+20tp +5tp

Jeff Dawson
Robin Brown

Robin Brown
+26tp +8

Robin Brown
+11tpo +14otp

Graham Gale
Alison Maugham

Mark Suter
+25tp +26tp

Mark Suter
Mark van Loon won the Plate, beating Mark Ormerod +10tp in the final.
---
WCF Simon Carter Golf Croquet World Championship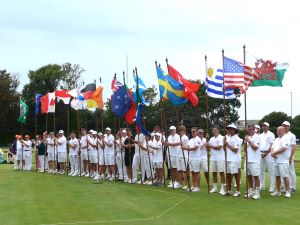 Competitors at the Opening Ceremony (Photo: Ray Hall)

by Dr Ian Vincent
27th July (World Championship)

The CA is hosting the WCF Simon Carter GC World Championship at the Sussex County, Compton, Tunbridge Wells and West Worthing clubs from 27th July to 4th August. Spectators are welcome at all venues.

The Championship was formally opened on Friday 26 July 2019, by Prince Richard, Duke of Gloucester, with representatives from the WCF, the CA and local dignitaries.

The Knockout stages are being broadcast live on YouTube from Thursday 1st August, complete with audio commentary.
---
Middlesbrough C-Level Golf Croquet Tournament
by Roger Staples at Middlesbrough
14 Jul 2019 (GC)
This year there were 10 entrants from Cumbria, Northumberland, Durham and Yorkshire. Handicaps range from 7 to 14 so Players were put in handicap order and randomly allocated to create 9 blocks of all play all. Time limits were set at 30 minutes per game.
After overnight rain, play started in damp conditions and with generous hoop settings the initial games were quickly despatched and by lunchtime the sun had emerged and the players had a well earned break.
The champion would be decided on the basis of the number of games won and should there be a tie, then the number of hoop points scored and who beat whom will determine the winner. This was beginning to give the manager a serious headache as there were two clear front runners and two others who were not far behind.
The afternoon session started in warm conditions with the lawns drying out rapidly and a soft breeze. Lawn speeds improved and by teatime, the leader board had changed completely. With a final round to be played, it was down to a crunch game - John Fitzpatrick vs Susan I'Anson. Susan prevailed and was declared winner of this years Tournament and is now eligible to play in the National Final to held at Cheltenham 21-22 Sept 2019.
David Cornes was thanked for his sterling efforts as Tournament Referee and players left, some rather fatigued after so many games, but all having enjoyed a pleasant days croquet.
Handicap changes:
Susan I'Anson 8 to 7
John Fitzpatrick 7 to 6
Roger Staples
---
James Death won the Croquet Championship
by Samir Patel at Surbiton Croquet Club
7th July (AC - Championships)
Round 1
Round 2
Quarter Final
Semi Final
Final
Champion
Reg Bamford

Reg Bamford
+20tp +26tp

Reg Bamford
+25tp +17

Reg Bamford
-26 +26 +19

James Death
+18tp +18tp

Sam Murray
Miranda Chapman

Miranda Chapman
+3 -20tp +6

Samir Patel
Mark Suter

Mark Suter
+26tp +10tpo

Mark Suter
+17tp -25 +4

Mark Suter
+17 +26tp

Joel Taylor
Jenny Clarke

Alain Giraud
+15tp +4

Alain Giraud
Brian Cumming

Stephen Mulliner
-5 +21 +23

Stephen Mulliner
James Death

James Death
+9tpo +14

James Death
+26tp +19

James Death
+14 +26

Nick Parish
Robin Brown

Robin Brown
+10 -20 +22

Christian Carter
+3 -12 +18

James Hopgood
Harry Fisher

Christian Carter
+18 -5tp +17

Christian Carter
David Maugham

David Maugham
+24tp +20tp

Mark Avery
+17 +16tp

Eugene Chang
Mike Town

Mike Town
+6 +9

Mark Avery
+19 +19

Kevin Beard
Mark Ormerod

Mark Avery
+22 +15

Mark Avery
---
James Death and Samir Patel won the Open Doubles Championship
by Samir Patel at Surbiton Croquet Club
6th July (AC - Championships)
First Round
Quarter Finals
Semi Finals
Final
Champions
Chris Clarke & Jenny Clarke

Chris Clarke & Jenny Clarke
+26tp(CC) +26tp(CC)

Brian Cumming
& Doug Grimsley
+12 +26

Mark Avery
& Sam Murray
+26tp(A) +26tp(A)

James Death
& Samir Patel
+12tpo(ASD) +9

Kevin Beard & Dennis Bulloch
Joel Taylor & Macey White

Brian Cumming & Doug Grimsley
-14otp(BC) +6tp(BC) +16

Brian Cumming & Doug Grimsley
Christian Carter & Mark Suter

Christian Carter & Mark Suter
+17tp(CC) +16

Mark Avery
& Sam Murray
-25tp(S) +11tp(M) +25tp(A)

Eugene Chang & Miranda Chapman
George Noble & Ian Vincent

Mark Avery & Sam Murray
-16 +24 +13

Mark Avery & Sam Murray
James Hopgood & David Maugham

James Hopgood & David Maugham
-18 +13 +8tp(DM)

James Hopgood
& David Maugham
+5 +25

James Death
& Samir Patel
+5 +4tpo(ASD)

Alison Maugham & Nigel Polhill
Andrew Hope & Martin Murray

Stephen Mulliner & Mark Ormerod
+21tp(SM) +18

Stephen Mulliner & Mark Ormerod
Harry Fisher & Alain Giraud

Harry Fisher & Alain Giraud
+13 -19TP(ASD) +17tp(ASD)

James Death
& Samir Patel
-17 +22 +3

Simon Jenkins & Nelson Morrow
Tim Jolliff & Michael Town

James Death & Samir Patel
+17 +12tpo(ASD)

James Death & Samir Patel
---
---