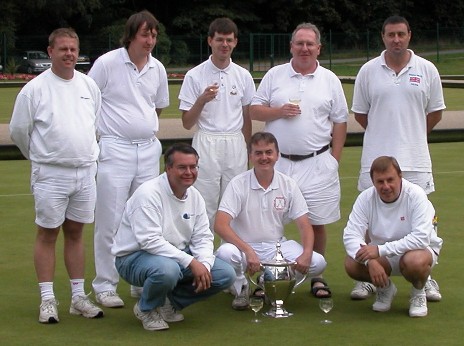 at Heaton Park
8-11 Sept 2005 (
AC - Championships
)
The President's Cup was won by Keith Aiton, who celebrated with a 5th-turn sextuple in the 14th round. Round 14 was completed with 20 turns, including Chris Clarke having a 4th turn +25TP over Dave Kibble.
Keith became the first player to have won the President's Cup (2005), the Chairman's Salver (1983) and the Spencer Ell Cup (2002), and at 46 he is the oldest winner of the President's Cup since 1961, when Humphrey Hicks won aged 57. Keith is only the second winner over 40 since that time - Eric Solomon won aged 44 in 1979.
On Day 1 Maugham had a perfect day. Clarke had his first 9 shots hit against him, but also had 6 errors made against him. Chris started to record the total length of shots hit against him, soon got to 200 yards, which includes 19, 25 and 33-yards in one game (against Keith). He was heard to groan "not again" as Keith turned down a 19-yard shot at partner to hit the 33-yard (easier to get going from) shot.
In general, the conditions were easy and shooting was the name of the game - something at which Keith, Jonathan and James excelled. Turn of the tournament? - probably from Keith, who having been TPOed with two balls off (Fulford), ended the succeeding turn by failing Rover (from about 1.5 yards)! Rob missed and Keith finished.
This year there were 48 peeling turns (including 6sxp, 1tpo, 3otp), which is a record for an 8-man President's Cup!
Click here to see the historic peeling totals.
In the picture (L to R): Dave Maugham, James Death, Chris Clarke, Jonathan Kirby, Keith Aiton, Dave Kibble, Mark Avery and Robert Fulford.
Final Standing
| | | |
| --- | --- | --- |
| Pos. | Player | Won |
| 1 | Keith Aiton | 12 |
| 2 | Dave Maugham | 9 |
| 3 | James Death | 8 |
| 4 | Jonathan Kirby | 7 |
| 5= | Chris Clarke | 6 |
| 5= | Robert Fulford | 6 |
| 7 | Mark Avery | 5 |
| 8 | Dave Kibble | 3 |
Results
Round 1
Keith Aiton beat Dave Kibble +13tp
Chris Clarke beat James Death +18
David Maugham beat Robert Fulford +26tp
Mark Avery beat Jonathan Kirby +17tp
Round 2
David Maugham beat Mark Avery +26tp
Robert Fulford beat Jonathan Kirby +26sxp
Keith Aiton beat Chris Clarke +12tpo
James Death beat Dave Kibble +18
Round 3
James Death beat Robert Fulford +12tp
Keith Aiton beat Mark Avery +13otp
Jonathan Kirby beat Dave Kibble +26
David Maugham beat Chris Clarke +15tp
Round 4
Keith Aiton beat Jonathan Kirby +26tp
David Maugham beat James Death +15tp
Chris Clarke beat Robert Fulford +26tp
Mark Avery beat Dave Kibble +18tp
Round 5
Mark Avery beat Chris Clarke +26tp
Robert Fulford beat Dave Kibble +26tp
Keith Aiton beat David Maugham +26tp
James Death beat Jonathan Kirby +5
Round 6
David Maugham beat Dave Kibble +26tp
Jonathan Kirby beat Chris Clarke +14
James Death beat Mark Avery +14otp
Robert Fulford beat Keith Aiton +26tp
Round 7
Mark Avery beat Robert Fulford +26tp
James Death beat Keith Aiton +26tp
Dave Kibble beat Chris Clarke +26tp
David Maugham beat Jonathan Kirby +17
Round 8
James Death beat Chris Clarke +10tp
David Maugham beat Robert Fulford +20tp
Jonathan Kirby beat Mark Avery +18tp
Keith Aiton beat Dave Kibble +24tp
Round 9
Keith Aiton beat David Maugham +23tp
Jonathan Kirby beat Dave Kibble +26tp
Robert Fulford beat James Death +26sxp
Chris Clarke beat Mark Avery +26tp
Round 10
Jonathan Kirby beat James Death +26tp
David Maugham beat Chris Clarke +16tp
Keith Aiton beat Mark Avery +26tp
Robert Fulford beat Dave Kibble +16sxp
Round 11
Chris Clarke beat Robert Fulford +22sxp
Mark Avery beat James Death +26tp
Dave Kibble beat David Maugham +26tp
Keith Aiton beat Jonathan Kirby +26tp
Round 12
Dave Kibble beat Mark Avery +26tp
Keith Aiton beat Robert Fulford +13otp
Chris Clarke beat Jonathan Kirby +26tp
James Death beat David Maugham +13tp
Round 13
Kirby beat Fulford +18
Maugham beat Avery +26tp
Death beat Kibble +6
Aiton beat Clarke +26tp
Round 14
Aiton beat Death +26sxp
Clarke beat Kibble +25tp
Kirby beat Maugham +26tp
Fulford beat Avery +26sxp