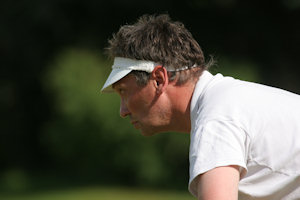 David Goacher won the Bristol Open Weekend (Photo: Samir Patel)
by Martin Murray at Bristol CC
10 August 2008 (
AC
)
David Goacher retained the McCullough Trophy (the Bristol Open Weekend) by beating David Harrison-Wood in the final (+9 TPO). Ed Duckworth beat Marcus Evans in the plate final. Congratulations to both.
The following quote from the BBC sports web-site therefore seems appropriate.
> I still remember the day Maurice Greene (world 100m record holder and
> Olympic champion) pulled up the sleeve of his t-shirt to reveal his
> new tattoo - a lion with the letters G.O.A.T etched into its mane.
>
> G.O.A.T. stood for 'greatest of all time'.
---
---