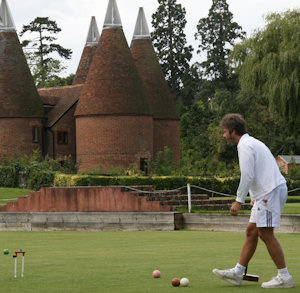 Jonathan Hills won the Medway Midweek tournament (Photo: George Noble)
by George Noble at Medway
21/08/2008 (
AC
)
Jonathan Hills won a very windy and very soggy Medway Midweek tournament beating Dick Knapp in the final of the best of three knock-out event. Nick Harris stormed through the plate event to win on the "who beat who" decider.
The photo does not properly convey how we suffered for our sport: by the time it was taken, the rain had eased, the wind abated and it had been possible to cut the lawns!
Thanks to members of the Medway Club for their hospitality and all their, mainly unseen, work and to the players for their forbearance.
Detailed results - Knock out (best of three throughout)
Nick Harris

Nick Harris
+3(T) +10(T)

Hills
+16 +18

Hills
+2 +22

Ian Price
Jerry Guest

Jerry Guest
+6 +24

Jonathan Hills
-8TPO +5 +4

Mary Knapp
Johnathan Hills

Jonathan Hills
+26 +11

David Parkins
John Daniels

John Daniels
+16 -21 +16

Dick Knapp
+6 +11

Knapp
+15 +4

Simon Whiteley
Dick Knapp

Dick Knapp
+14 +15

Alex Jardine
Nigel Polhill

Nigel Polhill
+17 +14

Nigel Polhill
+13 +14TP

Jon Diamond
George Noble
---
---