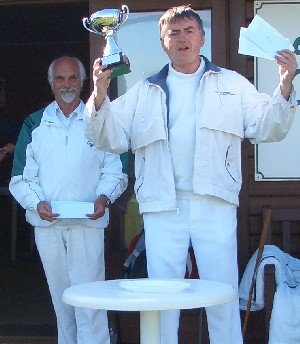 Keith Celebrates his Win - watched by manager Cliff Jones
by Gavin Carter at Jersey Croquet Club
5 April 2009 (
AC
)
Singles
Keith Aiton won the Jacksons Jersey Croquet Championship, beating Stephen Mulliner 3-1 to take the winner's prize of £300. With easy playing conditions for the final, the only difference on the day between the two in-form players was Keith's remarkable straight hitting.
There were two intriguing semi finals matching one player having played throughout the winter months, and one with very little recent play. This proved to be decisive in both matches. Stephen Mulliner beat Rutger Beijderwellen in one semi and with Keith Aiton leading David Maugham 2-0 in the other before David having to retire with a wrist injury in the third.
The best of five quarter finals were all one sided matches with 3-0 victories for each of the seeds.
Doubles
The doubles event also saw Keith in the money. Playing with Tony Le Moignan, they overcame Stephen and Gavin Carter 2-0 in the final with a solid +17Tp (K) and +26Sxp (K) win.
The Jacksons Jersey Croquet Championship was held in glorious sunshine at the Jersey Croquet Club from 2 - 5 April 2009. Although the lawns were in excellent condition, the easy pace (around 10 plummers) mixed with five players in the World top 20, led to a peeling frenzy in both the doubles and singles events.
This highly sociable tournament along with excellent lawns, weather and food was enjoyed by all and a great start to a new season.
Singles Scores
Stephen Mulliner beat James Hopgood +25tp, +26sxp
Keith Aiton beat Cliff Jones +26tp, +26sxp
Rutger Beijderwellen beat Gavin Carter +12tp, +26tp, +26tp
Stephen beat Simon Williams +26tp, +20, +26tp
Keith beat Tony Le Moignan +19sxp, +26tp, +14sxp
David Maugham beat Richard Griffiths +26tp, +26tp, +19
Stephen beat Rutger +21sxp, +10tp, -26tp, +26tp
Keith beat Dave +3sxp, +26tp, R/H
Keith beat Stephen +26tp, -25tp, +13tp, +26qp