National Croquet Week - 11th-17th May 2020
'Think You Know Croquet? Think Again!'
NCW Notes
This is a trial for 2020 to hold a week-long event, compared to a single day in previous years,
Clubs are free to organise own schedule/sessions within that

week

, perhaps culminating in an open taster day on Sunday 17 May (which would have been the date of a

National

Croquet

Day),
Clubs are encouraged to try new ideas during the

National

Croquet

Week

, e.g. invite schools/local interest or U3A groups/local companies to do a team building/intro session,
Marketing Committee plan to run an evaluation on the trial format after the event.
Poster artwork for National Croquet Week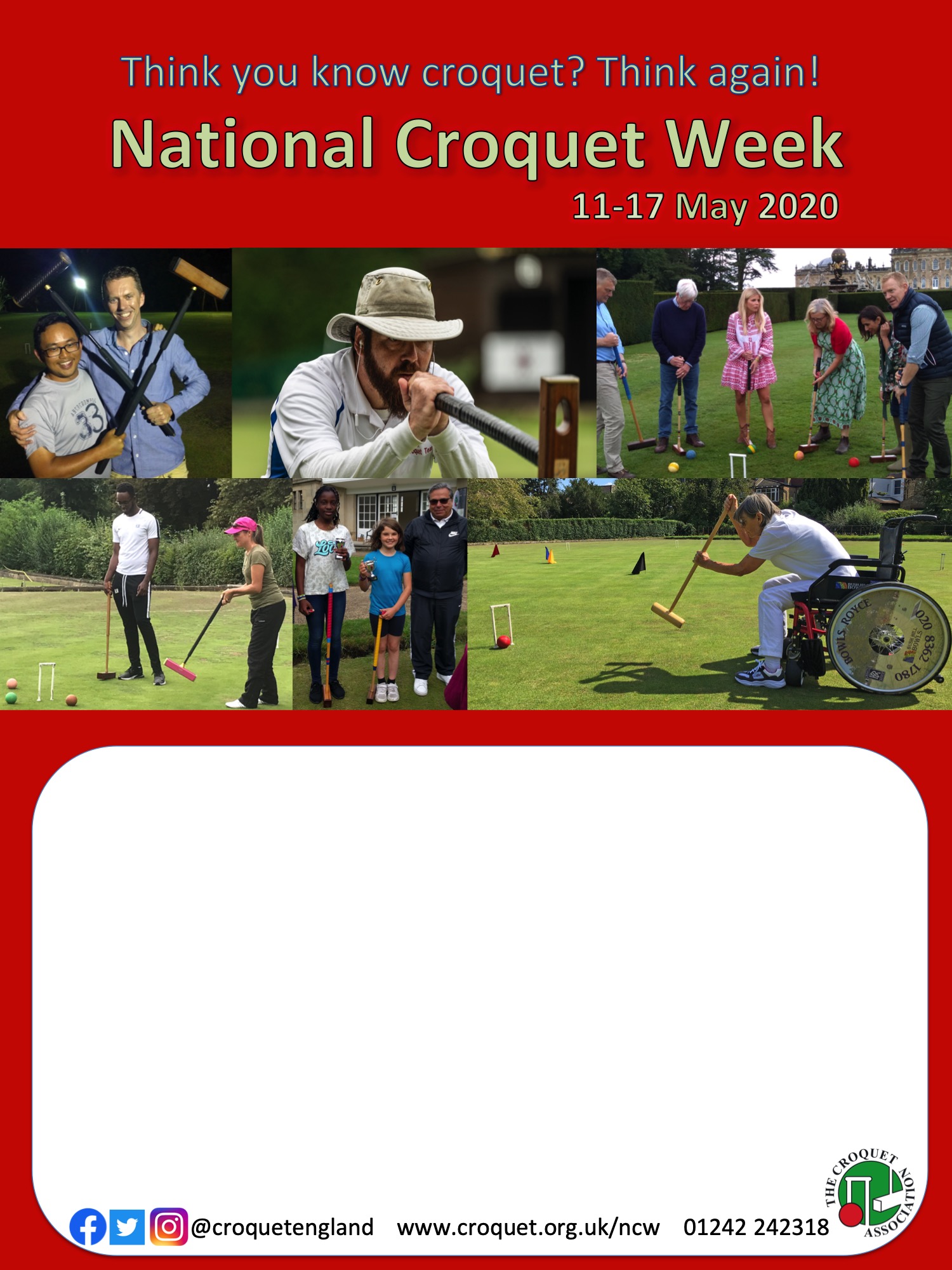 Downloadable versions:
Please see the NCW 2020 poster in JPEG format, with a separate link to a high-resolution PDF and PPTX version - the latter to let your club to insert own details into white box and print yourselves.
Hard copies of poster
Hard copies can be sent to your club's secretary by using the request form - please submit orders by 16th March.
Those of you who have requested hard copies - you should receive them directly towards the end of March.
Suggested formats for NCD:
We recommend getting people on the lawns and letting them have fun, rather than to spend too long demonstrating or explaining rules.
A quick format which is self explanatory is here - Two ball Match-Play Croquet rules v1-2.
Two-Ball 'Match-Play' Croquet for small lawns has been used successfully in a number of clubs at taster sessions and corporate events. It is a simplified hybrid of AC one-ball and GC scoring, can be picked up by beginners with little-to-no instruction, and takes up minimum lawn space compared to AC, GC or One-Ball.
We believe this format gets newcomers on the lawn and enjoying themselves, and avoids the debate of whether a taster session should start with GC or AC. You can then follow-up this format with beginners sessions under your club's coaching framework.
We would be glad to hear from clubs who choose to use this format on NCW or beyond.
Discussion About NCW
Members of the Marketing Committee are happy to help with any questions leading up to NCW, and to share best practices.
Clubs active on social media are encouraged to use the hashtag

#nationalcroquetday

when posting about their day.
The CA are active on Facebook, Twitter and Instagram with the username

@croquetengland

. We will repost and share as much as can - so do tag us!
We would love to hear how your NCW event went, and encourage you to submit a short piece for the Gazette/CA website.
We will circulate a post-event survey to gather information about attendance and lessons learnt.
Here's to NCW 2020 - thanks in advance to everyone involved.
---