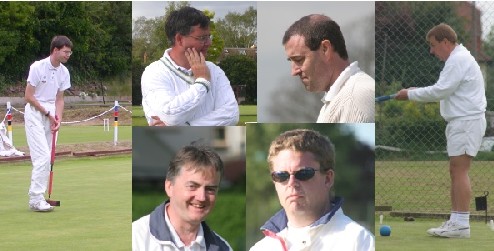 by Phil Cordingley,
20th October 2005 (
CA Official News
)
The MacRobertson Shield Selection Committee (Phil Cordingley (Chairman), Chris Clarke, Robert Fulford, David Maugham and Stephen Mulliner) is pleased to announce that the team to represent Great Britain at the 2006 MacRobertson Shield will be:
Robert Fulford (Captain)
Mark Avery
Keith Aiton
Chris Clarke
Jonathan Kirby
David Maugham
The sole objective was to pick the team to maximise Great Britain's chance of retaining the Shield. Fulford, Clarke & Maugham were automatic selections. The priority adopted then was to select those candidates with the consistency and strength of performance mostly likely to guarantee solid, winning performances in the lower half of the order.
The selectors particularly commend the quality and commitment of all candidates, which made it impossible to select anything other than an extremely strong and highly worthy team.
The event will be hosted by the Australian Croquet Association in Melbourne from 18 November to 4 December 2006.
Phil Cordingley,
Chairman, CA MacRobertson Shield Selection Committee
---
---