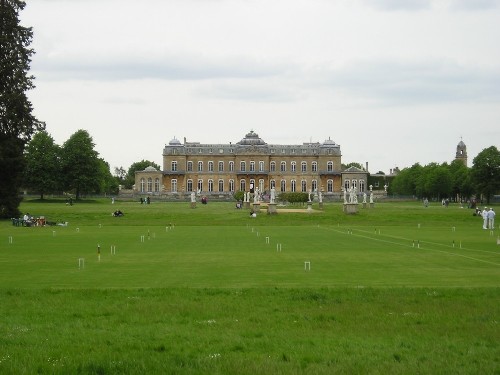 The Croquet Lawns (Photo: PicturesOfEngland)
by Bruce Rannie
6th October 2007 (
CA Official News
)
Congratulations to the clubs that reached the Finals Weekend.
Spectators are welcome to go to Wrest Park on Saturday 6 October for the Mary Rose Final between Surbiton and Pendle & Craven, and the Longman Cup semi-finals between Woking and Fylde, and Dyffryn and Norwich, start time 0930. And on Sunday 7 October for the Longman Cup Final and Third Place play-off (0930), and for the Big One, the Inter-Club Final between Bristol and Bowdon, starting at 1030.
The Inter-Club winners receive the Shield to retain for the year, and, for the first time in 2007, will be presented with the Beddow Cup, which has been "found" and procured by the Andersons and Wheelers, and loaned to the CA for use as the major trophy for this competition. The Beddow Cup cannot be taken away by the winning captain!
Prospective spectators should note that entry to the magnificent 92-acre park is controlled by English Heritage whose standard rates are £4.70 for adults and £3.50 for concessions, and they should enter via the normal visitor entrance that opens at 10AM. Those going in with the competitors and before 10AM will avoid this charge.
Note the parking and entrance arrangements on the club's website
www.english-heritage.org.uk/../1
www.picturesofengland.com/../Wrest_Park_House_and_Gardens