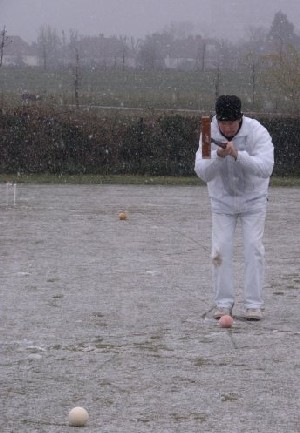 Dave Trimmer shooting in snow (Photo: Chris Patmore)
by Kevin Carter at Surbiton
23rd-24th March 2008 (
AC
)
It is often said that croquet players do not read notices. This was put to test on the first day when the event's instructions containing a sentence offering a free drink to the first ten players who approached the manager with a password. Only two, out of 32, noticed!
Play was punctuated twice with breaks for snow but when there was none lawn speed was as high as 11 Plummers. Not many SXPs were attempted, and none were completed, but 30% of games resulted in at least a TP.
Five -2s played and, like the stones in a boiling pan of damson jam, they rose to the surface, threatening to inflict serious damage to anybody trying to ingest them. And yet, other lesser morsels sometimes did so. Dick Knapp finished a creditable third. Malcolm Bigg, Mike Town and Nigel Polhill all had a good tournament, too. But, with the exception of Knapp, the top places went to big guns: Patel, Dawson, Bodger and the unbeaten Chris Farthing.
Jamie Burch lost four games in four hours on the second day, muttering a complaint that the manager pitted him against all the other four -2s. That is what comes of being an overnight leader. Ken Wood brought cheer to the group, especially all of his opponents, and Ian Parkinson lost to his Dad, Rodney.
Paul Salisbury played his last UK tournament for a while, since he will shortly emigrate to Japan. Desperate for 13 brownie points to become -1.5 he just failed to reach the threshold. Bon Voyage, Paul.
Final Positions
| | | |
| --- | --- | --- |
| | won/pld | % |
| Chris Farthing | 7/7 | 100% |
| Rutger Beijderwellen | 7/8 | 88% |
| Dick Knapp | 4/5 | 80% |
| Jeff Dawson | 6/8 | 75% |
| Samir Patel | 6/8 | 75% |
| Malcolm Bigg | 3/4 | 75% |
| Mike Town | 4/6 | 67% |
| Ian Plummer | 2/3 | 67% |
| Nick Butler | 3/5 | 60% |
| Kevin Carter | 3/5 | 60% |
| Andrew Johnson | 3/5 | 60% |
| Nigel Polhill | 3/5 | 60% |
| Chris Patmore | 4/7 | 57% |
| Paul Salisbury | 4/7 | 57% |
| Jamie Burch | 5/9 | 56% |
| Tim Wilkins | 3/6 | 50% |
| Graham Brightwell | 2/4 | 50% |
| Mary Knapp | 2/4 | 50% |
| Rodney Parkins | 2/5 | 40% |
| Ian Parkinson | 2/5 | 40% |
| Paul Castell | 3/8 | 38% |
| Dave Trimmer | 3/8 | 38% |
| Jon Male | 2/6 | 33% |
| David Mooney | 2/6 | 33% |
| Mark Hamilton | 1/5 | 20% |
| Peter Quinn | 1/5 | 20% |
| George Noble | 1/6 | 17% |
| Colin Southern | 1/6 | 17% |
| Gary Bennett | 1/7 | 14% |
| Ken Wood | 0/7 | 0% |
Results
Chris Farthing beat Peter Quinn (tp)
Dick Knapp beat Gary Bennett
Mary Knapp beat Paul Castell
Chris Patmore beat Rodney Parkins (tp)
Paul Salisbury beat Jon Male (tp)
Samir Patel beat Collin Southern
Nigel Polhill beat Jeff Dawson
Jamie Burch beat Dave Trimmer
Rutger Beijderwellen beat Kevin Carter (tp)
Ian Plummer beat Malcolm Bigg
Nick Butler beat Graham Brightwell
Ian Parkinson beat Ken Wood
George Noble beat Andrew Johnson
Mike Town beat Mark Hamilton
Paul Salisbury beat Samir Patel
Chris Farthing beat Rutger Beijderwellen (tp)
Chris Patmore beat George Noble (otp)
Jamie Burch beat Nigel Polhill (qp)
Dick Knapp beat Ian Parkinson
Mike Town beat Mary Knapp
Jeff Dawson beat Paul Castell (tp)
Mark Hamilton beat David Mooney
Tim Wilkins beat Ken Wood
Dave Trimmer beat Gary Bennett
Andrew Johnson beat Rodney Parkins
Jeff Dawson beat David Mooney (tp)
Kevin Carter beat Jon Male
Collin Southern beat Peter Quinn
Jamie Burch beat Paul Salisbury (tp)
Chris Farthing beat Chris Patmore
Jeff Dawson beat George Noble
Dick Knapp beat Tim Wilkins
Malcolm Bigg beat Collin Southern
Rutger Beijderwellen beat Samir Patel (tp)
Dave Trimmer beat Nigel Polhill
Andrew Johnson beat Ken Wood
Kevin Carter beat Mary Knapp
Samir Patel beat Graham Brightwell (tp)
Peter Quinn beat Jon Male
Paul Castell beat Gary Bennett
Rodney Parkins beat Ian Parkinson
Chris Farthing beat Mike Town (tp)
Rutger Beijderwellen beat Nick Butler
Jeff Dawson beat Dave Trimmer
Jamie Burch beat Tim Wilkins (tp)
Paul Salisbury beat George Noble (tpo)
Paul Castell beat Mark Hamilton
Gary Bennett beat David Mooney
Mike Town beat Ken Wood
Chris Farthing beat Jamie Burch (tp)
Dick Knapp beat Ian Plummer
Rutger Beijderwellen beat Jeff Dawson (tp)
Paul Salisbury beat Mike Town
Andrew Johnson beat Kevin Carter
Paul Castell beat Chris Patmore (tp)
Samir Patel beat Dave Trimmer (tp)
Nick Butler beat Mark Hamilton
Mary Knapp beat Rodney Parkins
Ian Parkinson beat Peter Quinn
Nigel Polhill beat Collin Southern
Tim Wilkins beat Gary Bennett
Jon Male beat Ken Wood
Graham Brightwell beat David Mooney
Chris Farthing beat Dick Knapp (tp)
Rutger Beijderwellen beat Jamie Burch
Jeff Dawson beat Andrew Johnson (tp)
Samir Patel beat Gary Bennett (tp)
Tim Wilkins beat Dave Trimmer (tp)
Malcolm Bigg beat George Noble
Nick Butler beat Paul Castell
Chris Patmore beat Jon Male (tp)
Ian Plummer beat Mark Hamilton
Nigel Polhill beat Tim Wilkins
Dave Trimmer beat Collin Southern
Malcolm Bigg beat Ian Parkinson
Graham Brightwell beat Peter Quinn
David Mooney beat Ken Wood
Chris Farthing beat Nick Butler (tp)
Rutger Beijderwellen beat Paul Salisbury
Jeff Dawson beat Jamie Burch (tp)
Mike Town beat George Noble
Samir Patel beat Chris Patmore (tp)
Kevin Carter beat Paul Castell
David Mooney beat Collin Southern
Rodney Parkins beat Ken Wood
Jon Male beat Gary Bennett
Rutger Beijderwellen beat Dave Trimmer
Samir Patel beat Jamie Burch (tp)
Chris Patmore beat Paul Salisbury (tp)
Jamie Burch beat Paul Castell