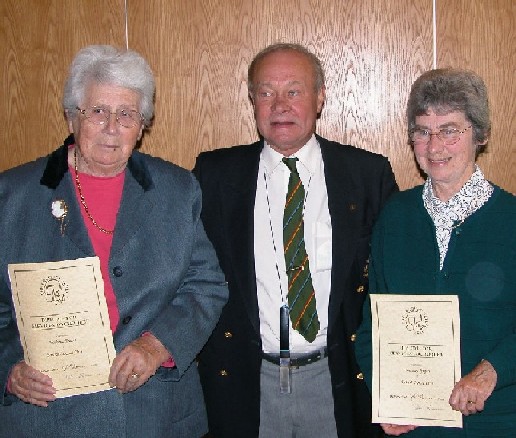 Barbara Evans, John Solomon and Rosemary Gugan
17th October 2002 (
CA Official News
)
Ashby & District Croquet Club
Barrie March
About 5 years ago the club was advised that the land their lawns occupied was required for a proposed extension of a leisure centre, and that there were no plans to build new lawns. As a result of intense lobbying the council was persuaded to replace the lawns; potential sites had to be evaluated, contractors appointed, and additional finance arranged. From the outset it was Barrie who managed the project and co-ordinated all the resources needed to complete the move, and we are pleased to award the diploma in recognition of his hard work and initiative.
Bristol Croquet Club
Barbara Evans
Barbara Evans has been a member of Bristol Croquet Club for the last twenty years, and has served the club in a variety of posts over that time. Indeed , it has seemed that whenever there has been an emergency, and a post has had to be filled at short notice, Barbara has always been the person to whom the club has been able to turn for help. Initially this was as our Tournament Secretary, then subsequently as Chairman, Treasurer, and Vice-Chairman. In between these duties she has served almost
unbroken as a Committee member. Although she has now retired from the Committee, she continues to work for the club in many ways, as coach, referee, general assistant, and, most importantly, as a wise head to whom anyone in the club knows they can turn to at any time for sound, pragmatic, and sensible advice.
Rosemary Gugan
In 1982 the Bristol Club was in the process of being revived by John McCullough. The club needed a Secretary, and John persuaded Rosemary Gugan, a newcomer to croquet, to volunteer. He couldn't have made a better decision, for Rosemary stayed in the job for nineteen years, finally passing over the post in 2001. Those nineteen years saw the small club rise to the third largest, in membership numbers, in the
country, and this success was largely due to Rosemary's energy, efficiency, and determination. These same qualities saw her become one of the leading lady players in the country, bringing even more credit to the club she so devotedly served for so long. Everyone at Bristol knows and appreciates what Rosemary has done for the club.
Cheltenham Croquet Club
Eileen Magee
When Eileen moved to Cheltenham in the early 90s, her reputation as an efficient organiser at the CA Office preceded her. She soon transferred her boundless energy to her new club, volunteering to take on the onerous post of Secretary, and later being elected Vice-Chairman. Not only has she been a tower of strength in the club's administration, she has also been active as the club's gardener as well as leading the team of caterers who look after the needs of players at tournaments and social events. Nor is she ever at a loss to develop new and subtly different ways of coaxing money out of members at fund-raising functions
She also finds time to enjoy her croquet.
Betty and Bernard Weitz
They say that good things come in twos, and in the case of Betty and Bernard Weitz they are correct.
Both are long time members of Cheltenham Croquet Club, and between them have contributed to just about every aspect of club life. Bernard has been Lawns Manager, has organised and played in club teams, including the Mary Rose, and despite indifferent health continues in the arduous post of Membership Secretary.
Betty was for many years part of the coaching team, and headed up the House Committee with its attendant catering responsibilities. She was one of the club's handicappers when that was a much more active role than it is today.
It would need a long list to record every contribution Betty and Bernard have made to club life. Such stalwart commitment is the lifeblood of any club, and the members of Cheltenham Croquet Club thank them for it.
Dyffryn Croquet Club
Stan Salt
Stan Salt is the club player par excellence. He took up croquet after retirement just over 10 years ago, and fluctuates between a 16 and a 20 handicap. He is ever ready to represent Dyffryn in handicap matches, enters all club tournaments for which he is eligible, and at club afternoons and evenings he works tirelessly with newcomers to the game. Stan is not a committee man, but this has not prevented him from making a major contribution to the club by putting his practical woodworking skills to good use. He has made a first class equipment trolley which holds ball carriers, yardsticks, flags, bisques, Wharrad turn counters and, in true recognition of a croquet player's needs, a bottle opener. In addition to this, he has improved the club tent with an excellent awning which doubles the amount of shelter available. His contribution to Dyffryn is immense.