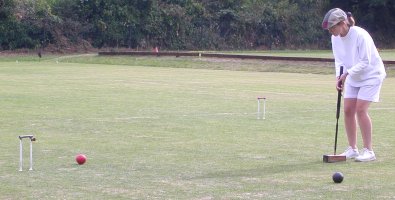 Louise Bradforth approaches 2-back in the final
by Andrew Gregory at Surbiton
5-7 September 2003 (
AC - Championships
)
Semi-Final
Paul Castell beat Duncan Hector +3
Louise Bradforth beat Ian Vincent +19
Final
Bradforth beat Castell +7
The final wasn't spectacular, but it went something like this...
Paul got the first break, but failed 3-back. This gave Louise the opportunity to get to 4-back, which she accepted. A few turns later Louise got her second break, but broke down at 2-back. The way her partner ball was loitering by 4-back I guess some peeling was in mind.
Paul then embarked on a quad, but had only one peel done when he failed 3-back for a second time. From then the frequency of errors increased, and short and shorter roquets were missed. But, just when the crowd was hoping for total degeneracy, Louise pulled herself together and finished.
3rd/4th play-off: Hector beat Vincent +10
And the Rest....
7/10 Ian Lines
6/9 Ian Plummer
5/8 Andrew Cowing, Samir Patel
5/9 James Mackay, Craig Edwards, Andrew Gregory
4/8 Roger Jenkins, Martin Murray, Tom Weston
3/7 Ben Ashwell
3/8 Nelson Morrow
2/7 Gordon Hopewell
2/8 Gary Bennett, Debo Forrington, John Richardson
1/8 Ed Dymock
and these withdrew before Sunday:
4/6 Kevin Carter
2/6 Nick Evans, Gerard Healy
1/4 Sam Symonds
1/5 David Parkins
Five TPs were completed, by Patel (2), Castell (2), and Vincent.
Day 1
Lawns fast, hard and dry, with firm hoops and a few "exciting approaches". Attempts at peeling have been abandoned by most, attempts at breaks abandoned by some; only one TP completed so far.
Day 2
Overnight rain took some of the edge off the lawns, resulting in more frequent breaks, and four TPs. Paul Castell completed back-to-back triples, Ian Vincent one, and Samir Patel the fourth (and his second).
The swiss stage of the Selectors was completed in the gloom on Saturday evening and the following four players go through to semi-finals:
Duncan Hector (unbeaten)
Louise Bradforth
Ian Vincent
Paul Castell
Day 3
A dry night, and warm sunshine returned lawns to day 1 conditions, and play slowed accordingly, with errors from most players.
Paul won a scrappy semi-final against Duncan, while Louise showed more control to beat Ian +19. This carried though to a tight final, with mistakes from both players. While hitting-in left both finalists, Louise kept her breaks together to win through.
Players out of the main event were more willing to experiment, leading to a variety of failed peeling breaks, but the conditions ensured that none were successful.