Cheltenham won the Inter-Club beating Bowdon 5-2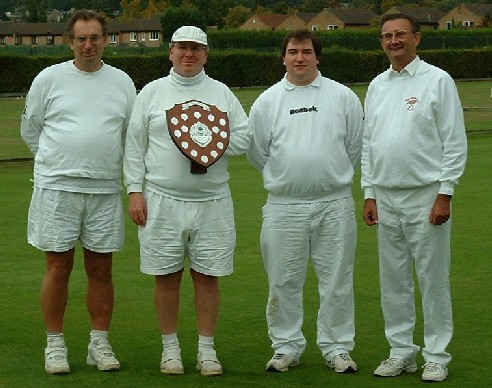 Dave Foulser, Dave Kibble, Robin Brown and Don Gaunt
by Dave Kibble
5 Oct 2003 (
AC - Inter-Club
)
Cheltenham were off to a flying start when, having won the toss, Colin and Jenny decided to have red and yellow; Dave F. and Don decided to go first and played yellow onto the lawn! After some discussion, they replaced the ball in corner 3. Colin left a cross-pegged double in the centre of the lawn, Don went into corner 4, Jenny hit and went round. However, she came to grief by missing her return roquet after 3-back but had made the requisite number of hoops. Dave hit and attempted to roll up to 1 but failed and retired onto the north boundary near corner 3, leaving the ball on the back of 2, hoping for a lift next turn. Jenny denied the lift so Don had a long shot, which allowed Colin to join with Jenny's ball on the East boundary. Colin subsequently went round but was unable to finish the triple so, after a missed lift, Jenny had a chance to finish, which she took.
Meanwhile the Lineses were looking pretty solid on lawn 8, both getting a ball round and making a reasonable leave. Dave K. and Robin hit their lifts and proceeded on a pair of TPOs and went on to win with 3-ball breaks, Robin from a missed shot into a trap and Dave by approaching 1 from corner 4.
Apart from Colin, who didn't give Don a chance, the afternoon games were much less clean, probably due to a combination of the excellent lunch provided by Eileen Magee, the tight 3-back hoop set by David Magee, and the cold damp making the lawns slower than ideal and the muscles less willing than necessary. Both Robin and Dave failed 3-back, Dave after popping Ian to 3 (from 1 and 1-back) with a good leave ahead. The games then became somewhat scrappy, except Robin managed eventually to hit and made a good pick-up to win. On lawn 8, Jenny had failed the peg-out and taken one ball out. Dave Foulser, forgetting his lift, fired from near corner 2 at the ball near the peg and hit. There followed a succession of shortish breaks followed by a trap leave, which Jenny fired into, on each occasion narrowly missing the peg by a few millimetres.
Results
Cheltenham names first:
David Foulser and Don Gaunt lost to Colin Irwin and Jenny Williams -25
Robin Brown beat Ian Lines +10 tpo
Dave Kibble beat Ailsa Lines +12 tpo
Don Gaunt lost to Colin Irwin -26 tp
David Foulser beat Jenny Williams +1
Dave Kibble beat Ian Lines +4
Robin Brown beat Ailsa Lines +23
Could this be the first time that two women played in the Inter-Club final?
---