GB Win the 2003 MacRobertson Shield for a record 5th time in a row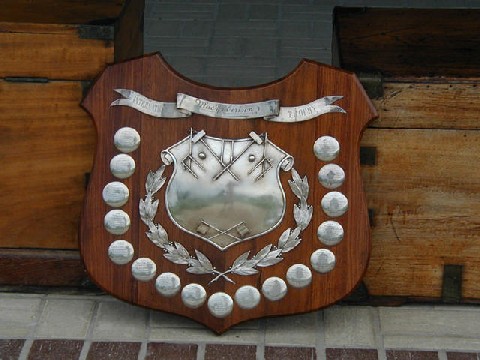 The MacRobertson Shield
by Phil Cordingley
15th November 2003 (
International
)
GB tied the final round of singles 3-3 to take the New Zealand test 11-10, ending with a record of three tests won and none lost. With the score at 10-9 to GB, David Maugham essayed the position after Dennis Bulloch had missed a shot to give him a standard TP in the third. Matthew Burrow was up against it, being game down and in a tight spot in the second. "I'd be better off with a team of baboons" quoth David, as he strode on to secure yet another clinching point for GB against NZ in the Mac.
With echoes of his final match against Jackson in Christchurch in 1990, Mulliner quickly saw off Wislang in straight games by about 10.30. Both games were won with TPs, the first with the aid of a combination peg out after hitting the straight rover peel.
Avery was not far behind against Parkinson, with a TP in the first and a 3 ball ending having pegged out Parkinson in the second. Avery thus finished with impressive 8-1 doubles and 5-1 singles records.
Clarke looked like he might get back on the winning trail a couple of times against Prince, but failed hoops cost him dearly as Prince completed a pretty well flawless straight games win in what may well prove to be his last appearance in the Mac.
Game of the day was reserved, not totally unpredictably, for the second between Fulford and Garrison. In the first Garrison continued where he had left off against Bamford in Wellington last year by hitting the tea lady after Fulford had gone to 1b. He did the same in the second. When Fulford got in again with the forward ball, he obviously decided enough was enough, so laid tight in corner III, with one opponent ball by 4b wired from corner III, the other just off W boundary level with 1. Garrison himself clearly thought it was pushing it to expect to hit his third 30 yarder of the match, so calmly jumped over 4b and hit Robert in corner III instead. Robert doesn't give up that easily, and later on only unluckily failed his fourth sextuple of the event when, with four peels complete and balls in perfect position, he hilled off a hampered 4 yard roquet after running 3b.
And so to the Beast's clincher to finish with an 8-1/5-1 record himself. Clearly he and Mark Avery were enormous for GB, David probably shading Most Valuable Player honours for having done it at 4 in the order, where Mark had had a slightly easier ride at 6.
---