Louise Bradforth won the Western Province Open Championship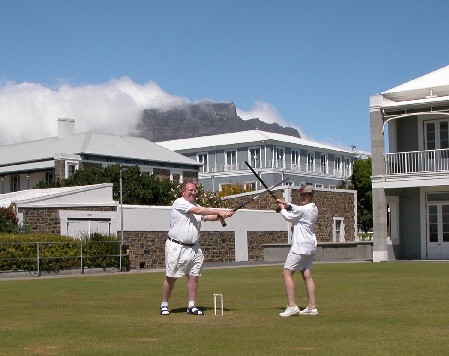 Louise persuades Dave that her tactic is the right one
by Dave Kibble
19th March 2004 (
International
)
Louise Bradforth took South Africa by storm last week by winning the Western Province Open Championship and the Open Doubles Championship with partner Dave Kibble. She also played in the handicap final but lost to Dave Mundy - who won it for the third time in succession!
Louise played local Judith Hanekom in the championship final, the first time it had been between two young women. Louise was in South Africa partly to celebrate her big birthday, her exact age is subject to a non-disclosure agreement so cannot be revealed but some might say that life began for her at the start of the tournament.
The tournament was played mostly at the Rondebosch club with a day spent at Somerset West. Both locations are fabulous and the locals very hospitable: no evening went by without something being organised in someone's house or at one of the many excellent restaurants. Before the tournament a lovely morning was spent at a Somerset West vineyard followed by lunch up in the mountains.
A party of five from the UK led by regular Dave Mundy, several UK residents who migrate each year for the better weather and a number of locals completed the 16 or so who contested the Championship, which is played as two seeded blocks with a play-off for the block winners. The Brits also won the traditional SA vs. RoW match, played with champagne forfeits.
---