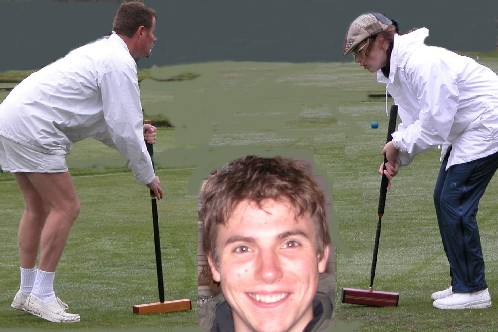 Chris Daniels, Jamie Burch and Louise Bradforth
by Dave Kibble
17/18 April 2004 (
AC
)
Clear favourite Chris Clarke was well out of sorts and his first round opponent, Paul Salisbury, showed no mercy. Chris got to peg and 4-back when Paul hit in again and pegged Chris out - a cardinal sin one might think, but Chris didn't get the luck he needed and Paul played well enough to stay ahead. Philip Brabazon and Chris Daniels were the newcomer strong performers in the main event; Chris earned his gold merit award with a skilful TP against Tim Wilkins, the only top four seed to survive the first round; meanwhile Louise was the only top 8 seeds to survive to the quarter final stage and she went on to win the final by the well-tried method of making fewer mistakes than opponent Chris Daniels in the heavy wet conditions. Chris demonstrated a strong technical ability throughout the tournament and fell down only on some tactical decisions, this will no doubt be corrected with experience.
Jamie Burch, another newcomer, stormed the plate with some excellent croquet, beating Tim Wilkins +17 in the final.
David Hopkins continued to build on his formidable shooting and hoop running, and is becoming a more than competent Association Croquet player.
Lunch was excellent, as one has come to expect of Southwick, including a very welcome steak and kidney pie on Sunday, hurried through to fill up the players rained off from 11AM until just before normal lunch time.
The lawns were in a pretty poor state though, which will probably add some interest to the forthcoming Golf Croquet World Championship there.
Chris Clarke
Paul Salisbury+4
Philip Brabazon+16
Philip Brabazon+4
Chris Daniels+21
Louise Bradforth+10 +3
Paul Salisbury
Philip Brabazon
Philip Brabazon+24
Nick Harris
Samir Patel
Samir Patel+26
Dave Kibble+13otp
Jolyon Creasey
Bill Arliss
Dave Kibble+15
Dave Kibble
Cliff Jones
Chris Daniels+13
Chris Daniels+14
Chris Daniels+10tp
Chris Daniels
Christine Constable
Dave Mundy+26
Dave Mundy
Tom Weston
Tom Weston+7
Tim Wilkins+7
Mary Knapp
Robert Alexander
Tim Wilkins+17
Tim Wilkins
Rutger Beijderwellen
Rutger Beijderwellen26tp
Lionel Tibble+19
Louise Bradforth+17
Louise Bradforth+18
Rodney Parkins
John Solomon
Lionel Tibble+19
Lionel Tibble
Gene Mears
Gene Mears+13
Louise Bradforth+20
Brian Smith
Pauline Duke
Louise Bradforth+16
Louise Bradforth
Phil Cordingley
Phil Cordingley+18
Phil Cordingley+23
Paul Castell+17
Martin Leach
Jamie Burch
Phil Eardley+9
Phil Eardley
David Parkins
Paul Castell+10
Paul Castell+11
Paul Castell
Chris Van Essen
David Harrison-Wood+18
David Harrison-Wood
3/4 play-off: Philip Brabazon beat Paul Castell +5
Plate
Ian Price beat Rodney Parkins +9
Jolyon Creasey beat David Hopkins +5
Nick Harris beat Christine Constable +25tp
Cliff Jones beat Bill Arliss +11
Jamie Burch beat John Solomon +16
Martin Leach beat Pauline Duke +1t
Robert Alexander beat Chris Van Essen +14
David Hopkins beat Mary Knapp +18
Paul Salisbury beat Bill Arliss +9
David Parkins beat Jolyon Creasey +2
Brian Smith beat Christine Constable +20
Nick Harris beat Cliff Jones +11
Bill Arliss beat Rodney Parkins +9
Dave Mundy beat Ian Price +14
Jamie Burch beat Rutger Beijderwellen +22
Mary Knapp beat John Solomon +21
Samir Patel beat Phil Eardley +25
David Harrison-Wood beat David Hopkins +6
Ian Price beat Robert Alexander +14
David Parkins beat Brian Smith +19
Jolyon Creasey beat Cliff Jones +5
Chris Van Essen beat Gene Mears +16
Jamie Burch beat Nick Harris +26
Dave Mundy beat Rutger Beijderwellen +14
Paul Salisbury beat Tom Weston +9
Nick Harris beat Rodney Parkins +23
Rutger Beijderwellen beat Cliff Jones +15
Tim Wilkins beat David Harrison-Wood +23tp
Phil Cordingley beat Dave Kibble +26tp
Jamie Burch beat Dave Mundy +25
Lionel Tibble beat Samir Patel +11
Nick Harris beat Paul Salisbury +3
Phil Eardley beat Tom Weston +11
Bill Arliss beat Brian Smith +5
Robert Alexander beat Martin Leach +15
Mary Knapp beat Ian Price +13
Rodney Parkins beat Christine Constable +1t
David Hopkins beat Pauline Duke +21
David Parkins beat John Solomon +16
Jolyon Creasey beat Chris Van Essen +14
Tim Wilkins beat Phil Cordingley +17
David Harrison-Wood beat Rutger Beijderwellen +1
Cliff Jones beat Gene Mears +18
Dave Mundy beat Jolyon Creasey +17
David Hopkins beat Dave Kibble +2
Chris Van Essen beat Tom Weston +14
Nick Harris beat Phil Eardley +14
Plate Final
Jamie Burch beat Tim Wilkins +17
Handicap Changes
Chris Daniels 1 to 0.5
Christine Constable 5 to 6
Jolyon Creasy 2 to 1.5
Jamie Burch 0.5 to 0
Rutger Beijderwellen -1.5 to -1
Louise Bradforth -0.5 to -1