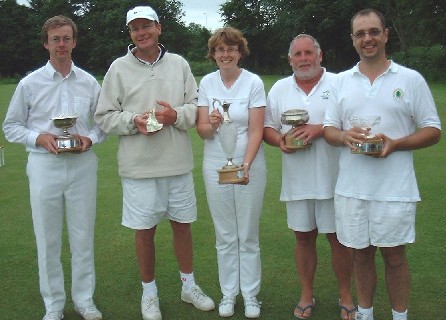 by Abdul Ahmad
12-13 June 2004 (
AC
)
The sun baked lawns and firm unforgiving hoops set in concrete ground made break building difficult. Many hoops were clanged. TPs were soon abandoned. The highlight was Dave Nick's valiant sextuple attempt. He did 4 peels before running hoop 6, had roll jawsed the peelee in penult whilst taking position to rush the pioneer after 1 back and failed to roquet. A large contingent of Bowdon raiders won all but one prize on offer.
1st Round
Ian Lines bt Mark Miller +10t
Christopher Cockroft bt Robert Essler +5t
Ailsa Lines bt Roger Schofield +13
Brian Storey bt Mike Steer +19
Peter Taylor bt Peter Wilson +21
Peter Wardle bt David Barrett +18
Bob Burnett bt Liz Wilson +17
Andrew Winn bt Dave Nick +18
Quarter Finals
Ian Lines bt Christopher Cockroft +17
Ailsa Lines bt Brian Storey +15
Peter Taylor bt Peter Wardle +18
Bob Burnett bt Andrew Winn +18
Semi-Finals
Best of 3 games
Ailsa Lines bt Ian Lines +23; +13
Peter Taylor bt Bob Burnett +17; -26; +18
Final
Ailsa Lines bt Peter Taylor -7; +26; +4
Ailsa Lines was awarded the David Openshaw Trophy.
Peter Taylor the Runners-up Trophy.
Consolation
David Barrett bt Peter Wilson +16
Dave Nick bt Liz Wilson +16
Roger Schofield bt Mike Steer +20
Mark Miller bt Robert Essler +2t
Brian Storey bt David Barrett +4t
Andrew Winn bt Liz Wilson +1et
Peter Wilson bt Mike Steer +4t
Dave Nick bt Christopher Cockroft +1t
Mark Miller bt Roger Schofield +1t
Robert Essler bt Peter Wardle -8
Andrew Winn bt Mark Miller +8t
Brian Storey bt Dave Nick +16
Ian lines bt David Barrett +13
Liz Wilson bt Mike Steer +4t
Roger Schofield bt Peter Wardle +11t
Robert Essler bt Peter Wilson +22
Bob Burnett bt Christopher Cockroft +7t
Dave Nick bt David Barrett +6
Robert Essler bt Andrew Winn +1et
Mark Miller bt Liz Wilson +3t
Roger Schofield bt Peter Wilson +9t
Peter Wardle bt Mike Steer +19
Ian Lines bt Bob Burnett +5
Brian Storey bt Christopher Cockroft +24
Dave Nick bt Peter Wardle +24
A-Class Consolation Play-Off
Ian Lines bt Brian Storey +23 and won the Chris Clarke Trophy.
B-Class Consolation Play-Off
Andrew Winn bt Mark Miller +6 and was awarded the Jeremy Dyer Trophy.
Winner of the Fastest Pegged Out Game
Bob Burnett in 61 minutes received the Chris Hudson Trophy.