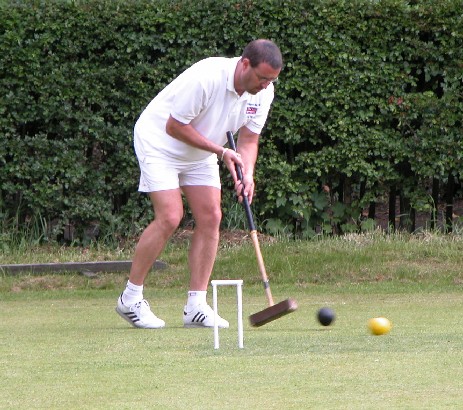 Mark Avery in action
by Andrew Gregory at Edgbaston
5-6 June 2004 (
AC
)
There were some vaguely interesting endgames in the latter stages of the draw.
The best game was between Mark Avery and Louise Bradforth. Mark was on course for a 7th turn +17tp, but could only peg out one ball. Louise played an all-round 3-ball break. She could have left a longer shot, but it was defended. Mark missed, Louise finished for a 10th turn +1.
Henry Fellows was rover and peg against Roger Jenkins (on 2-back & 4-back), when he inadvertently pegged out one ball (a "grievous"). Cruelly Henry let Roger scrape round until a missed peg-out gave Henry his last chance, which he took.
The final of the draw saw Henry peg out Louise with the backward clips on 3 and 4 respectively. Louise made nothing off the contact, but both sides had good chances until a farcical interlude at rover gave Louise the game.
Meanwhile Avery was storming through the process, and while his performance in the play-off was not quite as clinical as the score suggests, the victory was deserved.
Draw & Process
Draw
Roger Jenkins beat Lionel Tibble +17
Henry Fellows beat David Kibble +13
Bill Sidebottom beat Roger Schofield +15
Ken Jones beat David Mundy 3
Mark Avery beat Andrew Gregory +26tp
Jenkins beat Paul Swaffield +14
Fellows beat Sidebottom +21
Avery beat Jones +23
Louise Bradforth beat Martin Granger Brown +11
Fellows beat Jenkins +1
Bradforth beat Avery +1
Bradforth beat Fellows +3
Process
Bradforth beat Fellows +14
Avery beat Jenkins +12tp
Swaffield beat Jones +17
Kibble beat Granger Brown +22tp
Tibble beat Gregory +8
Mundy beat Bradforth +10
Avery beat Sidebottom +10
Kibble beat Swaffield +21tp
Tibble beat Schofield +16
Avery beat Mundy +14
Tibble beat Kibble +26tp
Avery beat Tibble +24tp
Play-Off
Avery beat Bradforth +26tp
Consolation Swiz
Tibble (7/9)
TPs
Avery (4)
Tibble (3)
Kibble (3)