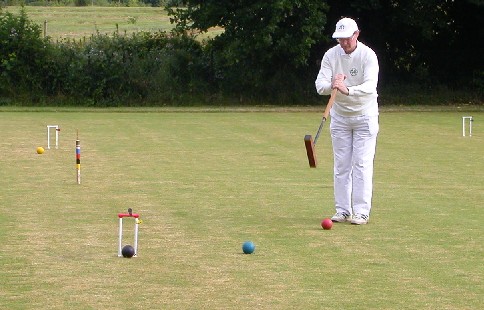 Jeff Dawson picks up an easy finish
by Jeremy Dyer
23rd June 2004 (
AC - Championships
)
Jeff Dawson won The Championship of Surrey 2004, defeating Jeremy Dyer in a less than thrilling final which had the several men and a dog assembled crew of motley spectators on the back of their seats.
Dressed predominently in white (in line with the Tournament Regulations), Dyer took a one-nil lead despite failing the pegout to complete a brilliant delayed tp, but finally smacking the peg from 15 yards when Dawson failed a hoop. The second game was all Dawson as the rain came down and the court slowed. The third game could have gone either way but in the end it was Dawson that adapted quicker to the changing lawn conditions and the title was yet again his. Our guest from Saddleworth, Liz Fleming, presented the trophies.
Kevin Carter won the Plate, defeating Samir Patel with a flamboyant and indeed rather lucky triple in the final. Well, Samir seemed to think it lucky.
The weekend saw mainly hot sunny conditions, fast(ish) lawns, and hoops set superbly and tight which held Noble and firm against the onslaught of balls. Ie, loads of players kept breaking down and the standard of play was decidedly average as most couldn't cope with the tough conditions. Games went to time and triples were rare.
Results
Brian Smith beat Martin Haggerston +4,+8
Gary Bennett beat David Mooney +12, +7t
Samir Patel beat Roger Jenkins +10,+4t
Liz Fleming beat George Noble +12,+24
Dave Mundy beat Ian Plummer +1t,-2t,+2t
Graham Gale beat Peter Quinn +17,-18,+4t
Philip Brabazon beat Collin Southern +13,+26
Jenny Williams beat Paul Castell +22,-15,+9
Kevin Carter beat Philip Brabazon -5,+9,+13
Jeff Dawson beat Dave Mundy +1t,+5
Chris Farthing beat Gary Bennett +5,-5,+4t
Jeremy Dyer beat Graham Gale +23tp,+26tp
Jeremy Dyer beat Brian Smith +23,+15
Kevin Carter beat Liz Fleming +8,+9
Jeff Dawson beat Samir Patel +16,+16
Jenny Williams beat Chris Farthing +17,-7,+4
Jeff Dawson beat Samir Patel +16,+16
Jeremy Dyer beat Kevin Carter +20,+1
Jeff Dawson beat Jenny Williams +4
Jeff Dawson beat Jeremy Dyer -8,+20,+12
Plate
Jeremy Dyer beat Chris Farthing +3tp
Chris Farthing beat Kevin Carter +24tp
Jeff Dawson beat Liz Fleming +2
George Noble beat Collin Southern +23
Roger Jenkins beat David Mooney +10
Samir Patel beat Brian Smith +11
Collin Southern beat Martin Haggerston +8
Paul Castell beat George Noble +13
Liz Fleming beat Jenny Williams +26tp
Martin Haggerston beat David Mooney +20
Peter Quinn beat Collin Southern +14
Graham Gale beat Philip Brabazon +1
Ian Plummer beat Paul Castell +3
Roger Jenkins beat George Noble +11
Roger Jenkins beat Dave Mundy +26
George Noble beat David Mooney +14tp
Martin Haggerston beat Gary Bennett +17
Paul Castell beat Peter Quinn +9
Roger Jenkins beat Collin Southern +21
Ian Plummer beat Philip Brabazon +4
Dave Mundy beat Graham Gale +11
Gary Bennett beat George Noble +4
David Mooney beat Brian Smith +11
Martin Haggerston beat Roger Jenkins +22
Ian Plummer beat Collin Southern +23
Gary Bennett beat Philip Brabazon +11tp
Samir Patel beat George Noble +11
Brian Smith beat Peter Quinn +26
Paul Castell beat Liz Fleming +8
Philip Brabazon beat Jeremy Dyer +4
David Mooney beat Peter Quinn +9
Chris Farthing beat Graham Gale +23
Samir Patel beat Paul Castell +25tp
Ian Plummer beat Gary Bennett +14
Kevin Carter beat Roger Jenkins +6
Brian Smith beat Collin Southern +5
Paul Castell beat Martin Haggerston +16
Samir Patel beat Chris Farthing +2
Kevin Carter beat Ian Plummer +10
Gary Bennett beat Graham Gale +24
Jenny Williams beat David Mooney +9
Philip Brabazon beat Brian Smith +2
Roger Jenkins beat Peter Quinn +14
Paul Castell beat Gary Bennett +26tp
George Noble beat Graham Gale +16
Plate Final
Carter bt Patel +3tp
Handicap Changes
Gary Bennett 0.5 from 1
Graham Gale 0.5 from 0