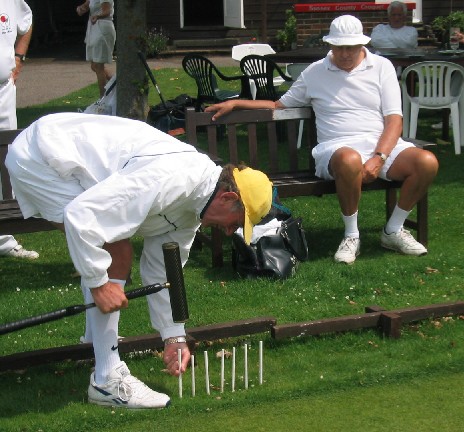 Seniors' Champion David Parkins looks on as David Mundy prepares for battle with Alan Cottle
by Roger Wood at Southwick
19th July 2004 (
AC - Championships
)
Now that I am an oldie I played in the Seniors' at Southwick this week, but you will observe that I do not feature much below!
Weather: decent for the most part - lots of thunder on Saturday but only 20 minutes rain, and a spell of more continuous rain on Sunday morning.
Lawns: heavy, even immediately after they had been cut.
Hoops: firm.
Catering: excellent, as ever.
Paul Macdonald's management: quietly understated and delightfully smooth.
Up until Sunday morning it looked as if an unbeaten David Mundy would walk away with both the Trevor Williams Cup and the Handicap Singles. But then David Parkins (with one previous loss) triumphed in the rain to become Seniors' Champion (on the basis of who beat whom). Later the sun came out for the X Handicap final but Alan Cottle proved too much, relegating David to yet another bottle of Bellingham's fine wines, for which all runners up were immensely grateful!
Class Singles
All played as American blocks.
Seniors' Championship (the Trevor Williams Cup)
David Parkins (Runner Up: David Mundy)
The Colin Hemming Cup
Colin Hemming
C-Class
Myra Gosney (Runner Up: Alan Cottle)
D Class
Quiller Barrett (Runner Up: John Gosney)
E Class
Jeff Rushby (Runner Up: Ron Atkinson)
Handicap Singles
Knockout
X. Winner: Alan Cottle (Runner Up: David Mundy)
Y. Winner: Anne Stephens
Z. Winner: Ron Atkinson
Handicap Doubles
Knockout
X. Winners: Ron Atkinson & John Hobbs (Runners Up: Anne & Bob Stephens)
Y. Winners: Rex Davis & Diana Brothers
Z. Winners: Paul Miles & David Tester