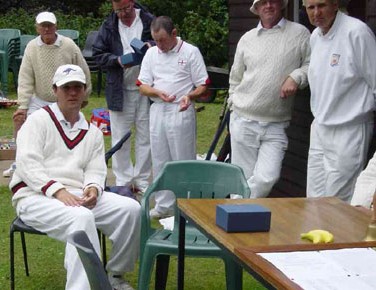 (Photo: John Wheeler)
by John Bevington
9-11 July 2004 (
AC
)
The tournament was won by Nick Parish, who won all his games except the last when he went down -2 to Ben Ashwell on Sunday afternoon. Ben had been dressed up as a chimney sweep for a fancy dress party the night before, and in the morning had brushed Nick Harris aside +26 TP. The only other triples were recorded by Lionel Tibble, who did two in succession on Saturday, each in about 45 minutes, against manager Eric Audsley and Peter Thompson, and by Jack Wicks against Richard Stevens. Other trophy winners were Peter Thompson for the highest number of index points gained and George Woolhouse for winning the block with handicaps over 3½.
Eric managed the tournament as a layered Swiss with the 24 players in three tiers based on handicap. Consistent success or failure was rewarded by an opponent from the next level. There was also the additional proviso of trying to keep club members apart as much as possible - not easy when they comprised over a third of the entry. Three-hour time limits kept things flowing smoothly.
But to return to our text for the day, and Wrest Park's unique ingredient. Tom, the old trouper, always gives a reporter some good copy. Friday evening echoed to a heartfelt cry of "Five minutes" from George Collin (a mild-mannered member); this in response to an enquiry as to how much time was left. It was later revealed that this request followed an interval of eight minutes in which seven shots were played. On Saturday it was Nigel Polhill's turn to suffer (+22 - nearly but not quite on time). Of the 91 games played, 11 went to time and Tom was involved in five of them. To quote further:
"Deep in unfathomable mines
He treasures up his bright designs
And works his sovereign will"
It should be remembered that Nick Parish's narrowest win was against Tom, by the classic score of +1T.
Then on Sunday morning Eric served up the dream pairing of the tortoise and the hare: Tom versus Jack Wicks. Jack, aged 16, turned up on Friday accompanied by his mother and proceeded to extend an unbeaten run to 20 games until he was stopped in his tracks by Rod Ashwell.
How would Jack fare against Tom? Read on:
"Blind unbelief is sure to err,
And scan his work in vain;
Tom is his own interpreter,
And he will make it plain."
Which he did, to the tune of +10T. Tom is God.
The weather was patchy with the mixture of sunshine and showers that has characterised the past few weeks. A potential catering crisis on Sunday was averted by John Wheeler and George Collin standing in as dinner lads - many thanks to them and our other helpers. And so to the results:
Block A
Nick Parish 7/8
Nick Evans 4/8
Andrew Davies 6/8
Nick Harris 4/8
Lionel Tibble 5/8
Tom Weston 3/8
Rod Ashwell 5/8
Jack Wicks 4/10
Ben Ashwell 4/7
Block B
Peter Thompson 6/8
Eric Audsley 4/8
John Bevington 6/8
Terry Mahoney 4/8
Tom Anderson 5/8
Mike Percival 3/8
Richard Dickson 4/8
George Collin 2/7
Block C
George Woolhouse 4/8
Gina Lewis 2/7
Richard Stevens 4/8
Nigel Polhill 2/8
Colin McKenzie 3/8
Geoff Strutt 0/5
In the photo, Nick Parish (seated) with (L-R) George Woolhouse, Peter Thompson, Tom Weston, Mike Percival and Tom Anderson.