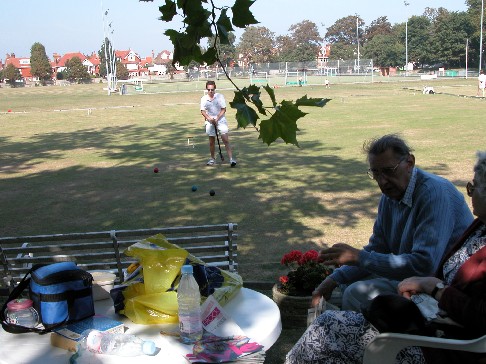 Tim Wilkins takes off to peg out in the final
by Roger Wood at Compton, Eastbourne
3rd August 2004 (
AC
)
Weather hot; lawns fast (lawn 3 measured at 14 seconds on Friday evening); hoops generous. Noisy seagulls were evident throughout, sometimes venturing on to the lawns in search of flying ants, but impossible to roquet. Overnight an unknown creature made toothmarks on many corner pegs leaving them tossed aside, clearly unappetising! After a long dry spell, with every slope and imperfection accentuated, with balls rolling on (and on past hoops) and off (both near and distant boundaries), games were prolonged and triples few.
Both semi-finals were rather in and out affairs. David Mundy had got to peg and penultimate when Tim Wilkins (partner on 2-back) went round and pegged him out. There followed a tense cat and mouse interlude, with much wiring and deeming, during which Tim progressed steadily to victory. The other semi-final between Rutger Beijderwellen and Tom Weston was characterised by consistently excellent shooting from both players but failures at hoops.
In the (single game) final Tim took black to 4-back in turn 4 with a NSL. Tom lifted the H2 ball to corner 1, hit black, sent blue north of H2 but over-rolled H1 off partner. Tim shot with blue, narrowly missing black, whereupon Tom began a break with yellow only to fail at 3-back off blue. Tim played blue, separated the opponents and laid up near H1. Red promptly hit and set off only to come to grief again over-rolling the approach at 3-back, this time off partner, and retire to corner 4. Tim hit with blue and finished with a triple, thus winning the COWhorn for the second time, but depriving the world of the prospect of (at long last) having a holder who can actually play a tune on it! Keep trying Tom!!
COWhorn newcomer Philip Brabazon, with impressive all-family support by way of spectators, lost only one game (to Tim Wilkins in the knockout) and emerged clear winner of the Swiss.
Knockout for the COWhorn
Round 1
Paul Castell beat Louise Bradforth +4
David Mundy beat Paul Salisbury +7
David Hopkins beat Dennis Shaw +18
Rutger Beijderwellen beat Tim Dutton +22
Round 2
Tim Wilkins beat Martin Leach +23
Philip Brabazon beat Jon Diamond +23
George Noble beat Ian Vincent +25
David Mundy beat Paul Castell +6
Rutger Beijderwellen beat David Hopkins +1
Peter Quinn beat Russell Bretherton +4
David Parkins beat David Kibble +5
Tom Weston beat Samantha Symonds +24
Quarter-Finals
Tim Wilkins beat Philip Brabazon +13
David Mundy beat George Noble +23
Rutger Beijderwellen beat Peter Quinn +19
Tom Weston beat David Parkins +3
Semi-Finals
Tim Wilkins beat David Mundy +3
Tom Weston beat Rutger Beijderwellen +12
Final
Tim Wilkins beat Tom Weston +10tp
3rd Place
Rutger Beijderwellen beat David Mundy +12tp
Swiss for the Cowbell
4 wins: Philip Brabazon
3 wins: L Bradforth, D Kibble, P Quinn, P Salisbury, S Symonds, D Hopkins, I Vincent
2 wins: P Castell, T Dutton, G Noble, D Shaw
1 win: R Bretherton, M Leach, D Parkins
Ace Peeler: Not awarded (insufficient merit!)