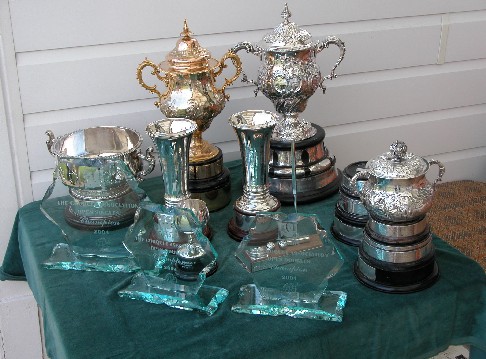 by Chris Williams at Cheltenham
July 4-11 2004 (
AC - Championships
)
World Champion Robert Fulford won his sixth Open Championship title, one year after his fifth, when he defeated Pete Trimmer by three games to two in their best of five final on lawn eight at Cheltenham. Trimmer who had defeated former World champions, Chris Clarke and Reg Bamford, in the previous two rounds was presented with a golden opportunity to take the title in the fourth game of the final, whilst leading 2-1, when Fulford failed at rover leaving Trimmer an eight yard roquet with his hoop 2 ball, compared with a two yarder for his four back ball. Trimmer missed; Fulford made no more mistakes and won the fifth game with a convincing fifth turn triple.
The Opens was held at Cheltenham for the second year in a row and the format used was once again, large all-play-all blocks, followed by a best of three knockout for all those players who had achieved at least 50% wins in the blocks. There were very few surprises in the blocks, with all the leading contenders achieving the required number of wins.
Robert Fulford did not have all his own way on his march to the final. Aaron Westerby, Matthew Burrow and Robin Brown all took a game off him, with Westerby failing at rover on a tpo in the third. Both of Fulford's wins against Brown followed a similar pattern with Brown hitting the 'tea lady' long shot of Fulford's sextuple leave, in both games. However Fulford then hit the lift with the backward ball in both games and promptly TPO'd Brown, whilst performing a few peels on his own 1 back ball, and peeled Brown through hoop 1 to prevent a squeeze after the contact.
Other matches of note in the knockout phase included Pete Trimmer beating Chris Clarke +1 in the third after Clarke had missed a short peg out; James Death performing two TPOs on David Maugham, but losing the second. The triples statistics show that pegging out Maugham with a tpo is not necessarily a winning tactic. He has one of the best records for winning when pegged out. Stephen Mulliner had his customary wrong ball episode in his defeat by Chris Clarke; this time no one could remember when the wrong ball was played and the resolution of the incident took quite some time.
The big surprise in the best of five semi-finals was Peter Trimmers straight games defeat of Reg Bamford. Trimmer had been seen the previous evening spending a lot of time practising jump shots over hoop one on the basis that Bamford would be setting up for sextuples. In the first game Trimmer was first round, but failed a hampered shot after one. Sure enough Bamford went to 1 back and laid for a sextuple cross wiring Trimmer's balls at hoop one with the hoop 2 ball towards south west of the hoop and the four back ball north east of the hoop. Trimmer played his hoop two ball, jumped the hoop and landed on top of the four back ball rushing it two thirds of the way to 4 back. After this the triple was quite straightforward.
In the doubles final Chris Clarke and Robert Fulford defeated Reg Bamford and Stephen Mulliner in straight games. Earlier in the competition there was the unusual situation of Bamford and Mulliner playing the first game of their quarter final, and losing it, against Goacher and Heap, before Goacher and Heap had completed their previous round against Noble and Vincent. If Goacher and Heap had not won against Noble and Vincent, which for the manager they fortunately did, the game would have been declared a friendly. This unusual situation occurred, because Mulliner and Vincent both required leave that afternoon and Heap could not play on Friday.
Clarke and Fulford's quarter final against Pete Trimmer and Chris Williams saw a tpo ending that lasted three and a quarter hours when the rest of the match lasted little over an hour. In the first game Fulford went to four back third turn and Clarke did a fifth turn triple. In the second game Williams went to four back third turn and Fulford did a fourth turn tpo peeling Trimmer to hoop 2 in the process. The tpo ending lasted so long because Trimmer was unwilling to give Clarke all the balls and was waiting for the lift after 1 back. Clarke however had other ideas and decided to set up an impasse when for 1 back with Trimmer still for hoop 2, partly to find out what the impasse rules for the event were. Eventually the Tournament Referee, Ian Vincent, decided that since the match was time limited then the game's time would be allowed to expire. This ruling did speed things up slightly and Clarke did get peeled through one back by Fulford, thus saving the lift. Later, however in trying to finish Clarke did manage to give a lift after four back. Unfortunately Trimmer was unable to make much progress, partly because he had got quite chilled on what local weather records showed was the coldest July day on record.
Jonathan Kirby took the Association Plate, defeating Samir Patel in the final.
It was good to see quite a few new overseas faces at the Opens this year. Four of the American Solomon Trophy team played Bob Cherry, Mik Mehas, Kenster Rosenberry and Jeff Soo, as well as Tony Hall, Ross Marshall and Liz Fleming from Australia, and Dennis Bulloch and Aaron Westerby from New Zealand.
The lawns at Cheltenham have been improving over the season so far, after the ravages caused by last year's dry summer, though the quality varies from excellent, with very even pace on the new lawns, to pretty rough with bald patches and thick green grass on the old top lawns. Unfortunately the weather was not as kind as last year's baking hot weather. This week saw everything weather wise, apart from snow, though it felt at times on the Thursday that it might not be far away.