North West retain Pennine Cup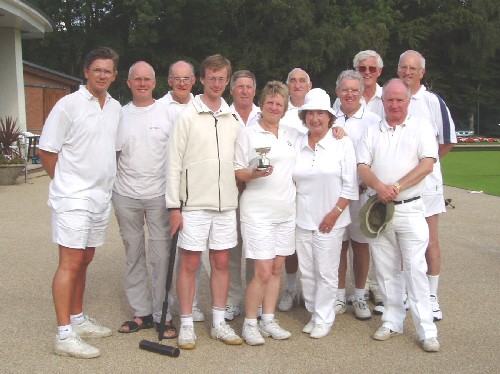 The six NW players are on left, NE on right.
by Charles Waterfield at Heaton Park
17th August 2004 (
Other News
)
The Pennine Cup, between the North West and North East (Croquet North & Yorkshire) Federations, took place on 15th August at Heaton Park, Manchester. The North West overcame North East by 6-3. The format is Advanced Doubles & Singles as well as some Handicap Singles; NW names given first.
Ian Lines & Ray Lowe beat Bruce Rannie & Derek Knight +4tp (Ian)
Peter Wardle & Graham Whitehouse lost to Charles Waterfield & Alice Fleck -1t
Paul Rigge & Liz Wilson beat Peter McDermott & Derek Watts +7
Ian Lines beat Bruce Rannie +26tp
Peter Wardle lost to Charles Waterfield -26
Paul Rigge beat Peter McDermott +4
Handicap Singles
Liz Wilson lost to Derek Watts -14
Graham Whitehouse beat Alice Fleck +13
Ray Lowe beat Derek Knight +3
---