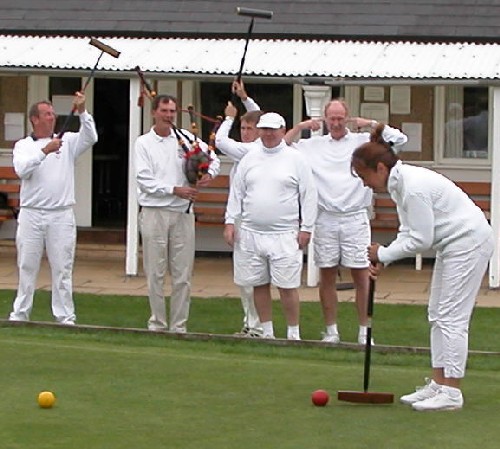 Debo Forrington trying to play croquet whilst being serenaded by Lionel
at Cheltenham
September 11-12 2004 (
AC
)
The tournament was created at short notice to give some croquet-related entertainment to those failing to get into the eights for which they were available. Kevin Carter was delighted on Sunday morning to discover that he had in fact at last made it into an eight. Ten people had started playing in the tournament but it had reduced to an eight by Sunday: Strat only entered for the first day and Ailsa had car troubles that delayed her arrival until the main event, lunch.
In the main event, Saturday was enjoyed at the Green Dragon in unexpected sunshine, moules seemed favourite but the warm smoked chicken and chirozo salad was a close second. Some even had stamina enough for desert, the sticky toffee pudding looking best. Since there were no time limits it lasted over 2 hours. Sunday saw us enjoying French bread, cheeses and pate in the lunch room with fabulous cakes to follow.
Carrying on the tradition at Cheltenham of the manager winning, the consolation croquet event was won by Dave Kibble who didn't drop a game and took advantage of the easy conditions to complete a sextuple against Kevin Carter. The club secretary, Penny Crow, is hoping the tradition continues into next year's opening tournament, which she is managing. Two matches each had both players completing all the peels of a triple but no pegout, and resulting in a -1 for the first would-be tripler!
Debo Forrington produced croissant each morning, which were welcomed with open mouths. Lionel Tibble entertained us all with the bagpipes and his seemingly never ending stream of jokes and wit. All agreed that the relaxed atmosphere with emphasis on lunch and chat made the tournament a success, and one to be repeated. Many thanks to the club for the use of their facilities at short notice.
1 Dave Kibble 6/6
2 Lionel Tibble & Marcus Evans 4/6
4 Strat Liddiard 2/3
5 Kevin Carter 4/7
6 Ailsa Lines, Sam Symonds, Deborah Forrington 2/5
9 Richard Danby , Anthony Dix
Results
Ailsa Lines beat Anthony Dix +16
Kevin Carter beat Deborah Forrington +12
Lionel Tibble beat Richard Danby +13
Marcus Evans beat Sam Symonds +23tp
Dave Kibble beat Strat Liddiard +13tpo
Marcus Evans beat Kevin Carter +18tp
Sam Symonds beat Deborah Forrington +16
Ailsa Lines beat Lionel Tibble +26
Strat Liddiard beat Richard Danby +4
Dave Kibble beat Anthony Dix +16tp
Kevin Carter beat Sam Symonds +6
Marcus Evans beat Deborah Forrington +22
Dave Kibble beat Ailsa Lines +25tp
Lionel Tibble beat Anthony Dix +5tp
Dave Kibble beat Marcus Evans +1
Kevin Carter beat Ailsa Lines +17
Strat Liddiard beat Sam Symonds +14
Dave Kibble beat Kevin Carter +24sxp
Lionel Tibble beat Marcus Evans +20
Sam Symonds beat Richard Danby +18
Deborah Forrington beat Anthony Dix +18
Marcus Evans beat Ailsa Lines +8tp
Deborah Forrington beat Richard Danby +4
Dave Kibble beat Lionel Tibble +20
Kevin Carter beat Anthony Dix +18tp
Lionel Tibble beat Kevin Carter +1