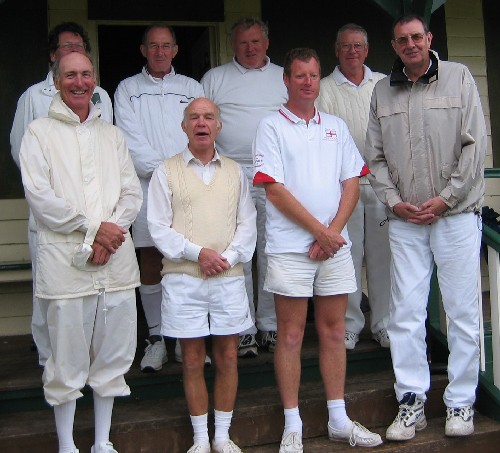 by Chris Williams at Southport
13th September 2004 (
AC - Championships
)
John Haslam played in the Spencer Ell to replace Ian Lines who was promoted to the Chairman's Salver at the last minute.
In the play-off, Duncan won +9 in a fairly tense encounter. Chris clipped the peg and ended up cross-wired from his hoop 5 pioneer having done one peel of a standard 7th turn tp and never really got going after that.
Duncan, at 64, now becomes the first and second oldest winner of the Spencer Ell Cup. He last won in 1992.
The players dubbed this the Pensioner's Eight, with 5 of the players over 60 and none under 40. At least one of the lunchtime discussions centred on which medications they were all on.
Conditions were getting quite difficult by the end with strong wind and driving rain. The start of the game coincided with an excellent display from the Red Arrows, the RAF's display team. Unfortunately the poor weather meant that the Lancaster again did not show.
Round 1
Haslam bt Williams +17
Mundy bt Daniels +11
Hector bt Jenkins +22
Magee bt Nick +8
Round 2
Hector bt Magee +25
Jenkins bt Nick +23
Mundy bt Haslam +3
Daniels bt Williams +16
Round 3
Daniels bt Jenkins +13
Haslam bt Magee +13
Williams bt Nick +14
Hector bt Mundy +16
Round 4
Mundy bt Magee +8
Jenkins bt Williams +12
Haslam bt Hector +6
Daniels bt Nicholson +2
Round 5
Nicholson bt Haslam +3
Daniels bt Hector +18
Jenkins bt Mundy +10
Williams bt Magee +18
Round 6
Williams bt Hector +25tp
Nicholson bt Mundy +12
Daniels bt Magee +17
Jenkins bt Haslam +15
Round 7
Magee bt Jenkins +1
Daniels bt Haslam +9
Williams bt Mundy +16
Hector bt Nick +9
Round 8
Mundy bt Daniels +10
Hector bt Jenkins +16
Nick bt Magee +2
Williams bt Haslam +8
Round 9
Hector bt Haslam +4 (in the dark at 8:05)
Williams bt Nick +4
Jenkins bt Daniels +16
Magee bt Mundy +17
Round 10
Daniels bt Nick +25
Mundy bt Hector +10
Magee bt Haslam +10
Williams bt Jenkins +23
Round 11
Mundy bt Jenkins +17
Williams bt hector +14
Nick bt Haslam +17
Magee bt Daniels +10
Round 12
Magee bt Williams +3
Jenkins bt Haslam +9T (22-13)
Nick bt Mundy +12
Hector bt Daniels +9
Round 13
Williams bt Daniels +16
Nick bt Jenkins +2
Hector bt Magee +3t
Mundy bt Haslam +17
Round 14
Haslam beat Daniels +12
Mundy beat Williams +2
Hector beat Nick +13
Jenkins beat Magee +1T (15-14)
Play Off
Hector beat Williams +9