Grass Roots and Centre Stage Golf Croquet competitions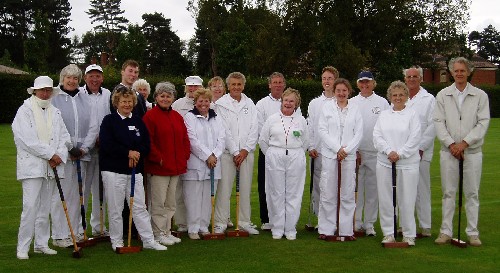 Competitors at Grass Roots Final
by Patricia Duke-Cox
18th September 2004 (
GC
)
Grass Roots
Over 100 competitors from five Federations entered the Grass Roots competition this year. Club heats of progressive doubles golf croquet sought out the four strongest players who then competed in singles matches. Representatives from the clubs then went forward to play the same format in regional events.
The final was held at Solihull recently and 16 players competed. Ages ranged from 17 years upwards and there were 8 men and 8 women. They enjoyed seven rounds of progressive doubles before the final four places were determined. Points won ranged from 17 to 29.
The strongest player from the first 7 rounds was 17-year old Jamie Bancroft from Lincolnshire who played Peter Mallen from Kenilworth. The second strongest player was Don Martin from Southwell who played Pat Dawson from Hunstanton.
The final games were between Peter Mallen who beat Don Martin into second place 7:3. Jamie Bancroft beat Pat Dawson 7:6 to be 3rd and 4th respectively.
Centre Stage
The Centre Stage competition was well managed by Rosemary Longbottom and Pat Wright. Once again entries came from around the country and began with club competitions. Singles games were played and the final saw 10 competitors at Solihull. Played as two blocks, the top four competed for the trophy provided by Syd Jones of Croquet for Leisure.
In the semi-finals Rosemary Longbottom of Ripon Spa beat Michael Holland of Woking 7:3, whilst Michael Kennedy of Unity beat Mick Seagrave of Southwell 7:3. The final games saw Mick Seagrave beating Michael Holland 7:3 for 3rd and 4th places and the winner Michael Kennedy beating Rosemary Longbottom, a champion in 2002, 7:6.
---