Middlesbrough won the Secretary Shield, beating Syngenta 4-3 in a tight final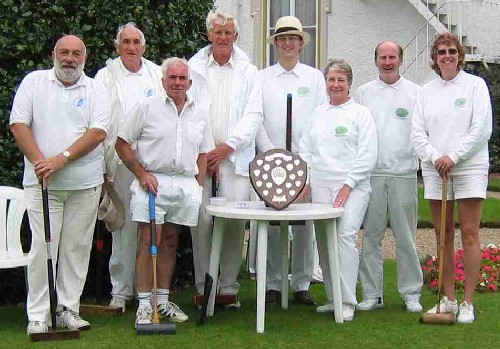 by Malcolm Daines
September 2004 (
AC - Secretary's Shield
)
Played a few weeks ago at the Ripon Spa Hotel, Huddersfield, Syngenta met Middlesbrough in the National Final. The day was blustery, wet and overcast throughout. In a spirited performance, Syngenta went down by the closest of margins losing 4-3 in the best of seven match.
The morning's highlight was the long hitting in (from corner to corner) by Trevor Billard and Peter McDermott with McDermott edging out Billard to take the game. Marjorie Eldon and Malcolm Daines played good team doubles to defeat Charles Waterfield & Walter Sanders. Anna Giraud's opponent Roger Staples hit top form and a decisive victory. So at half time Syngenta were 1-2 behind.
In the afternoon singles, Trevor Billard played majestically against Charles Waterfield and won by the maximum possible 26pts in less than 40 minutes and gained the Croquet Association Bronze Award. Anna Giraud returned to form but was narrowly beaten by Peter McDermott. Malcolm Daines's game against Walter Sandford was a tight tense affair which could have gone either way with Walter Sanders winning just before the end of time. None the less, Marjorie Eldon played a cracking good break whilst under pressure with time running out to win her match against Roger Staples. Afternoon score 2-2. Whilst Syngenta scored more hoops than Middlesbrough in the day, Middlesbrough won the match 4-3. This was the first season that Huddersfield Syngenta (with a small but growing membership) had entered a National team event, playing Aldermaston, Pendle and Middlesbrough, all more established clubs with larger memberships.
In the Picture
Taken at lunch time, left to right:
Middlesbrough: Roger Staples, Peter McDermott, Walter Sanders, Charles Waterfield
Huddersfield Syngenta: Trevor Billard, Marjorie Eldon, Malcolm Daines & Anna Giraud
---