Jonathan Kirby awarded an Oxford Full Blue for Croquet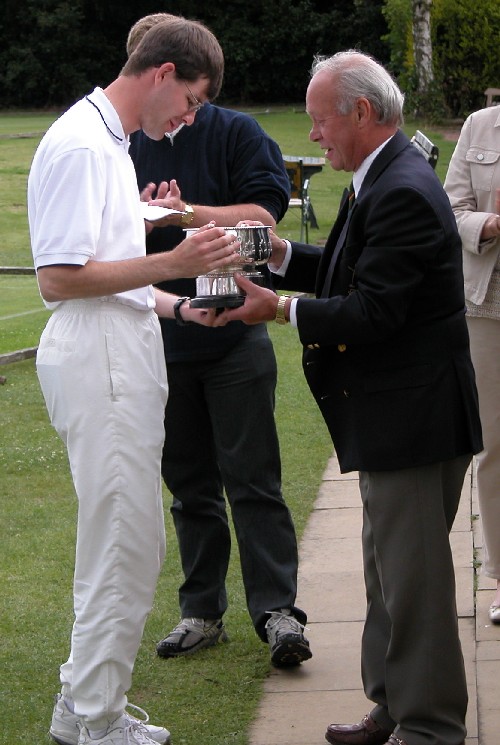 Jonathan Kirby takes a trophy at the British Open 2004
by Mark Gooding
29/11 2004 (
Other News
)
Congratulations to Jonathan Kirby who has been awarded an extraordinary Full Blue for croquet by the Oxford University Men's Blues Committee.
The "Blue" is the award for sports men and women competing against Cambridge in the annual varsity match. There are only 14 Full Blue sports, and croquet is considered a Half Blue sport. The Blues Committee, comprising the captains of the Full Blue sports, may award an extraordinary Full Blue to players of any sport if their achievements are considered extraordinary enough.
For Jonathan to be awarded an extraordinary Full Blue is not only a great achievement for him, but also for the Oxford University Croquet Club who have raised the profile of croquet within the University to the extent that an application for a Full Blue could have a favourable hearing.
It's believed that the only other Full Blue awarded for croquet was to Adam Berry in 1984.
Jonathan Kirby commented, "This is really more a reflection on the Oxford University Croquet Club than on me. Over many years they have raised the profile of croquet in the university to the extent that an application such as this could have a favourable hearing. The recent huge expansion of the cuppers competition (208 entries of teams of 4 this year) has been a factor in this, and is another result of the work put in."
The Oxford Full Blue cap will be an interesting colour co-ordinated addition to Jonathan's Scotland 'strip'.
The application letter is reproduced in Full below.
Application for an Extraordinary Full Blue
22nd November 2004
1. Achievements in the 2004 Croquet Season
World ranked 12 (see attached for full list)
Played for Great Britain in both this year's test matches: the 17-4 defeat of the USA, the 13-2 victory over Ireland
Continued his captaincy of the Scottish national team in the Home Internationals
Came 3rd in the President's Cup, the top UK event, behind the world numbers 1 and 2
Won the Scottish Open
Won the British Open singles plate and was a semi-finalist in the British Open doubles
Varsity Match 2004
The Varsity match consists of six singles games and three doubles games. Jonathan led Oxford to a 9-0 victory over Cambridge, overwhelmingly winning his singles match and then guiding his inexperienced partner to victory in the doubles, finishing with a quintuple peel, which consists of making the twelve hoops for his ball, the last five for his partner's ball and finishing the game by pegging both balls out, all in one break. This is Jonathan's career best turn, and a very rare feat. The following statistics were obtained from the World Croquet Federation ranking officer, and are for worldwide tournament singles games. Statistics are not kept for doubles games, but peeling turns are rarer in doubles than singles. The current and immediate past world number one players, Robert Fulford and Reg Bamford, have between them done the majority of quintuple peels in the last ten years. For example, in 2004 they account for 60 of the 87 done in total. Thus, excluding the top three players world wide, only 27 peels were completed in 14,000 Federation singles matches.
Year Games Quintuple peels
1995 7817 1
1996 7658 11
1997 9231 14
1998 9429 14
1999 11153 18
2000 11033 13
2001 12960 43
2002 14589 92
2003 13710 40
2004 13919 87
2. Explanation of Competitive Croquet
Competitive, top-level croquet is not very similar to the garden game most people are familiar with. Think of laser-levelled lawns the size of two doubles tennis courts, with hoops firmly set in the ground and only 1/16 of an inch (1.6mm) clearance for the ball to get through. An international player will typically run these hoops from about one yard, (at four yards odds drop to about 50%), and have the ability to hit a ball onto another ball 20 yards away with consistency. In the croquet stroke, where two balls are placed together and both moved, a top player will be able to send the balls 25 yards in different directions and get both to stop on given spots with an accuracy of about one yard, depending on the court conditions. The game also requires a high level of tactical skill and resembles a chess match in strategic intensity. In tournaments, a player will typically be playing for six to nine hours a day. Championships are usually played over three days, but a major championship such as the British Open is played over eight days. The ability to maintain concentration and focus over such a long time is essential at this level, where a single lapse in concentration or a tactical error at the end of a long day can make the difference between winning and losing.
3. Achievements in the Context of Other Sports and Physical Conditioning Required
In effort and intensity, competitive croquet compares well with golf, a Full Blue sport, where a professional tournament is played over four days, with one round of 3 - 4 hours on each day. A golfer will play approximately 72 strokes in a round, whereas a croquet player will play around 200 in a single game, and will play 4 - 8 games in a day. In some cases the individual strokes may be easier than in golf, but a single mistake will let the opponent in and the player may not get another chance. It is also often necessary to hit the ball very hard, to keep it straight over a long distance and to transfer a lot of momentum to a second ball. Top players can hit the ball at 30mph, and keep the accuracy levels mentioned above. This uses as much strength as swinging a golf driver.
Over last winter Jonathan did a four month training programme with a personal trainer at the Peak Fitness gym, working on general fitness and on upper body strength and stability. This helped noticeably with his concentration and with the consistency, accuracy and strength of his swing.
4. Dedication to the Oxford Croquet Club
Jonathan is very much a team player within the club, and has been the club Treasurer for two years. He has also gained his official coaching qualifications in order to coach players at all standards within the club. His efforts have paid huge dividends for the club, as we now have a cadre of more than ten players that are playing with single digit handicaps and are well placed to dominate the varsity match for years to come with a steady new player development program. His enthusiasm for helping new players is a big part of this effort and the chance to play and learn with a world class player has strengthened the club immensely.
Jonathan has also been a key supporter of the croquet cupper's competition. He has rejuvenated croquet in Magdalen College, an effort that culminated in Magdalen winning the cupper's trophy in June of 2004. The main student croquet event nationally is the British Student Championships, but Jonathan was unable to play because it clashed with the Home Internationals at which he was captaining Scotland. It is safe to say he would have won the event without difficulty.
5. Notes on Competitive Croquet
Croquet has a very long history as a sport, particularly in Oxford. The Oxford University Croquet Club was founded in 1867 and, apart from the war years, croquet has been played here ever since. The varsity match was first contested in 1961, and has been held every year since at least 1977.
The Oxford Croquet Club has approximately 50 members and last year 208 teams of four entered cuppers (although only 128 teams were allowed into the draw). This makes the OU Croquet Cuppers is the largest croquet tournament in the world.
There are 1600 registered players in the UK (associates of the Croquet Association eligible to enter official tournaments), of whom 356 played enough competitive matches last year to be in the world rankings. There are many more who are members of clubs but who do not play competitively. A survey in 2002 found that there were 15,000 croquet players at registered clubs in Commonwealth countries, and a recent unconfirmed estimate of the worldwide number is 24,000 thousand players.
List of Supporting Documents
Croquet World Rankings, November 20, 2004
Letter from Robert Fulford, world number one
Letter from Richard Hilditch, Secretary, South East Croquet Federation
---