Mary Knapp and Julie Hudson won the Speed Doubles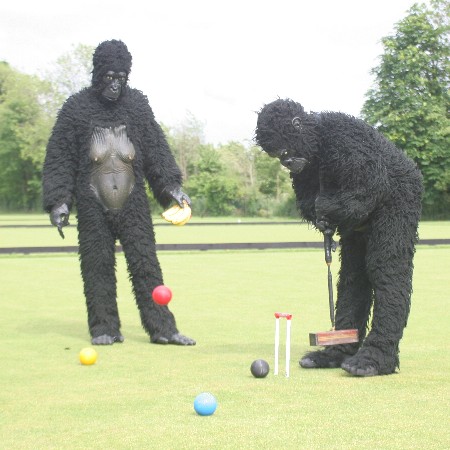 by Samir Patel at Surbiton
26th May 2005 (
Other News
)
26 players gathered for the annual handicap speed doubles tournament at Surbiton. The early leaders were Jean-Yves Guermont and Rodolf Dourthe from France, playing in this event for the first time and proving to be more consistent than more regular contenders. Some previous winners found consistency difficult to achieve and by the end of the first day, "Les Bleus" were on 7 wins out of 8, and although they still had their bye to come the next rivals were on 5 wins (and a draw) out of 7.
With tournament regulations relating to white clothing relaxed, team colours (or at least co-ordination) have become the norm. This year was no exception, although one pair (pictured) struggled to match their Open's Doubles performances.
The second day saw a change of form. The Rodolf and Jean-Yves failed to win another game, allowing last year's winners Jon Male and Philip Brabazon to pass them to make the final, together with Mary Knapp and Julie Hudson who had quietly (and almost unnoticed) been beating most opponents. Mary and Julie convincingly won the final to become the 6th holder of the title.
---