World Championship Qualifiers - and the winners are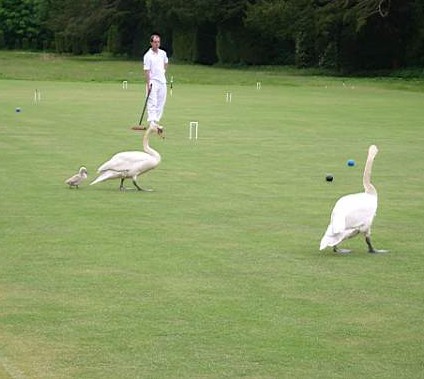 Nick Parish waits for the processions (Picture: Dave Mundy)
by Dave Kibble
5th June 2005 (
World Championship
)
The winners of the 4 remaining English places in the World Championship are Marcus Evans (6 wins), Tim Wilkins (5 wins), Jerry Guest (4 wins) and Ben Ashwell (4 wins).
The hard-fought slog-out at Wrest park wasn't much fun - everyone had problems with the slow lawns. Getting a break was a challenge, and once established it was difficult to break down (although I managed to miss a 9" rush out of hoop 3 to corner 1 - I thought I could afford to hit it as hard as I could, sadly without contacting partner ball. As an Illustration of the speed, I went off only by 7 yards!).
The event was played as a 6 round Swiss, with players kept on tenterhooks until tea time hoping to avoid the multi-way tie. Tim beating Don gave Tim a place, Don wining would have had 4 people in a play-off.
Marcus was undefeated, he coped extremely well with conditions and played to his strengths. Against Tim, he TPO'd and pegged out both balls leaving 1 vs. 1, correctly relying on his superior hooping and shooting (strong Golf Croquet assets.)
Ailsa Lines was looking to be a strong contender until she failed rover after being pegged out by Tim - she had hit some excellent shots and had played well to inhibit Tim's progress.
Chris Patmore demonstrated consistent excellent shooting in several pegged-out games, but finished with the pack on 3 wins. I was told that in one game he ran 4-back hampered so hit the ball in corner 1!
A pair of grazing swans with one offspring interrupted play momentarily as they ambled across the lawn.
Results
Format: Six round pure Swiss
Time Limit: 3 1/4 hours
Tie breaks, in order:
(a) Games won
(b) No. of wins of opponents
(c) Net points
(d) Gross points
(e) Peg shoot out (5 + sudden death)
Qualifiers:
| | |
| --- | --- |
| Marcus Evans | 6/6 |
| Tim Wilkins | 5/6 |
| Jerry Gueat | 4/6 |
| Ben Ashwell | 4/6 |
Unsuccessful candidates:
Duncan Hector
3/6
(Opponents' wins: 24)
Don Gaunt
3/6
(23)
Ailsa Lines
3/6
(20)
Roger Jenkins
3/6
(19)
Chris Patmore
3/6
(18)
David H'son-Wood
3/6
(18)
Samir Patel
3/6
(16)
Dave Kibble
3/6
(15)
Dave Mundy
2/6
(15)
Nick Parish
2/6
(13)
Louise Bradforth
0/6
Round 1
Marcus Evans beat Ian Vincent +25tp
Dave Kibble beat Louise Bradforth +16
Duncan Hector beat Chris Patmore +4
Don Gaunt beat Dave Mundy +22
Roger Jenkins beat David Harrison-Wood +11
Ailsa Lines beat Nick Parish +5
Jerry Guest beat Ben Ashwell +21
Tim Wilkins beat Samir Patel +7
Round 2
Evans beat Kibble +15tp
Hector beat Gaunt +17
Lines beat Jenkins +17
Wilkins beat Guest +14
Vincent beat Bradforth +10
Harrison-Wood beat Mundy +9tp
Patmore beat Parish +2
Patel beat Ashwell +26
Round 3
Evans beat Hector +6qnp
Wilkins beat Lines +2
Gaunt beat Kibble +18
Guest beat Jenkins +21
Harrison-Wood beat Vincent +25tp
Patmore beat Patel +3otp
Mundy beat Bradforth +26
Ashwell beat Parish +6
Round 4
Evans beat Wilkins +1tpo
Hector beat Lines +23tp
Gaunt beat Guest +10
Harrison-Wood beat Patmore +24tp
Jenkins beat Kibble +23
Patel beat Vincent +6tpo
Ashwell beat Mundy +26tp
Parish beat Bradforth +13
Round 5
Evans beat Gaunt +3
Wilkins beat Hector +6
Lines beat Harrison-Wood +12
Guest beat Patmore +12
Jenkins beat Patel +17
Kibble beat Vincent +17
Mundy beat Parish +19
Ashwell beat Bradforth +24
Round 6
Evans beat Harrison-Wood +17
Wilkins beat Gaunt +10
Guest beat Hector +17
Ashwell beat Lines +24tp
Patmore beat Jenkins +20
Kibble beat Mundy +17tp
Parish beat Vincent +9
Patel beat Bradforth +25
---