Happy Croquet Returns to Ramsgate for Ware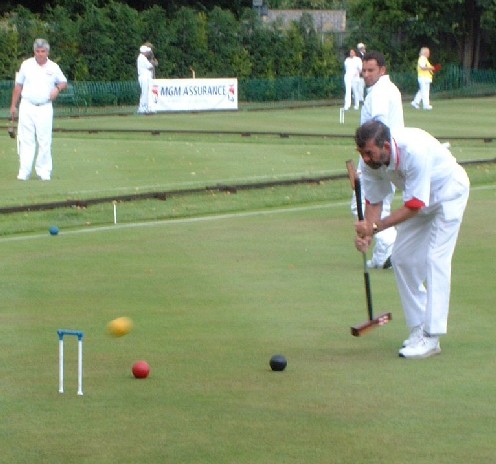 by Roy Ware
7th June 2005 (
GC
)
Canterbury based Roy Ware returned to Ramsgate, where he had been a member for about 13 years, to win the 2005 Ramsgate Golf Croquet International.
Twenty players from afar afield as Belgium and South Africa competed for the title. Among the English contingent were 6 players in the top twenty of the UK ranking list. Play on the Saturday was in two blocks with the top four from each block going into the quarter finals and the remainder playing in a consolation doubles. With a total of 90 games to be played the players were kept on the go by manager Mary Currie. Added to the strong competition was the wind that some players found difficult to contend with but they did enjoy playing on some of the best lawns in the country.
In Block 1 UK number7, Chris Sheen, managed to win his block even though he was struggling to find his normal high standard of play. Don Beck from Surbiton Club managed to improve on his form from previous tournaments to be runner up in the group. David Dray from the host club proved he is still a dangerous player by also qualifying for the quarter finals.
In the other block Dick Strover from Colchester dominated winning 7 of his 9 games. Andrew Hobbs, South Africa, playing in his first serious Golf Croquet tournament in this country played exceptionally well to win 6 games including the scalps of Ware and Old, two established England players
With 7 players on 6 wins in block two and 4 players with 6 wins in block 1 it was left for manager Mary Curry to burn the midnight oil to sort out the qualifiers for the quarter finals
In the quarter finals David Dray played well to progress to the semis by beating Dick Strover while Andrew Hobbs kept up his early form to defeat Paul Strover. In the other two quarter finals Ware and Hopkins eased into the next round
The semi finals were two contrasting games. While Andrew Hobbs defeated David Dray easily in two straight games Ware battled hard to defeat Hopkins 2-7, 7-5, 7-6
In the final Ware showed his experience Hobbs into some misjudges shots and took the honours with two straight wins 7-4, 7-2
Once again all the players enjoyed the high quality lawns and hospitality provided by the host club and look forward to returning next year.
---