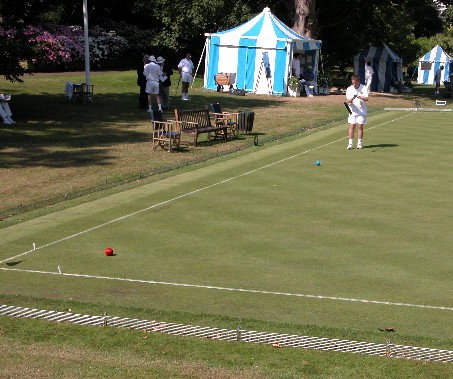 by Rob Fulford at Hurlingham
11th July 2005 (
AC - Championships
)
Dave Maugham versus Chris Clarke, Hurlingham lawn 4, medium paced, warm sunny day.
Dave wins the toss and chooses to go first, Chris chooses RY.
Game 1
1 K to long straight supershot position
2 R to just S of C2
3 U hits R. Doesn't get good rush to 1. Approaches from 5 yards to the side to 4 foot straight. Fails.
4 Y hits U. Sticks in 3 on 4 ball break.
5 K peels Y through 3 establishing break and goes to 4b. Places R against left wire of 2 and Y behind 4 in normal MSL positions but lays up 10 yards S of C2 with a 4 foot rush pointing at 6.
6 Y misses long lift into C2
7 U rushes K to 2 yards S of 2. Cannons R going to Y successfully getting R to bounce of 2 to the side. Sends Y to 3 obtaining rush on R pointing roughly at C1. Overcuts the rush to 4 yards SW of the peg. Takes off the wrong side of 1 and fails 4 foot 35 degree hoop. Finishes in unpromising position just off left wire.
8 R trickles at Y just failing to reach by literally a third of an inch. 9 U takes on very short 50 degree hoop (few other options with K close to 2 wired on all the other balls) and fantastically runs it by a yard. Misses
ball and a half target of Chris's balls near 3.
10 Y rushes to K, then 4. Fails 1 yard straight hoop.
11 K makes leave. Joins up in C2 area with Y near E boundary level with 3 and R just in court from the end of A-baulk.
12 Y misses 22 yarder at U.
13 U starts TP using R as hoop 4 pioneer without touching it before 3. All the peels completed before 2b.
Maugham +23TP
Game 2
Chris chooses to go first, Dave RY
1 K very long and wide supershot ball
2 Y hits 16 yarder from end of A-baulk (would have missed to only 3 yards east of C2). Sends K close to C2. Goes into C4.
3 U hits 32 yarder at K from A baulk. Plays monster roll sending K close to maximum length spot getting close to 4. Hits Y from 8 yards. Makes no attempt to approach 1, but concentrates on DL with tight rush. 4 R hits K from 17 yards. To 4b with MSL. 5 U lifts from hoop 4 and misses long lift. 6 Y finishes.
Maugham +26TP
Game 3
Dave chooses to go first, Chris RY
1 U to 10 yard straight supershot position
2 Y lags to the middle so there is no double
3 K hits U. To 4b with DL.
4 R misses long lift
5 U finishes
Maugham +26TP