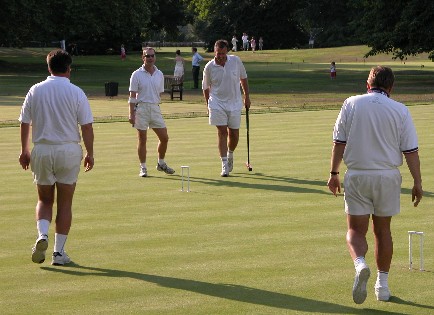 by Rob Fulford
11th July 2005 (
AC - Championships
)
Clarke and Fulford won the first sixth turn 26TP.
Game 2 was much more interesting. Gibbons hit fourth turn and went to 1b.
After a missed tea lady shot Reg started a sextuple. The first peel after 2 only went through by a yard and from there on Reg struggled to get the turn back on track. Ended up with an STP and failed the penult peel. The peelee sat close to the left wire of penult not blocking the hoop. After a long discussion Reg made penult, sent one ball passes rover, then played a brilliant cannon nicking the peelee just in front of penult getting in position for a rush peel. The rush peel ended up at about 5 foot 45 degrees. The rover peel failed. Reg made rover and then another long discussion took place. Eventually Reg tapped the other ball behind rover, tried to cannon the peelee in front of rover (presumably for another rush peel) but didn't come close and finished by trying to peel rover from by the peg so he could definitely peg out. The peel failed and Reg pegged himself out. Fulford went round to the peg peeling Clarke's ball to 2 after 2b going to 3b and then re-establishing the 3 ball break. After rover Fulford sent Gibbons' ball towards C4 but down a poor line and was lucky the ball didn't finish in hoop 4. Laid up near C2 with his own ball propped on the right hand wire of 1b so it wouldn't rush to rover. Gibbons played to a little out of C4 (C1 was blocked by hoop 4). This would have been a reasonable time to attack and go for a 3 ball break, but Clarke and Fulford opted to try and keep Gibbons wired for the rest of the game. As it was, the first time Clarke tried to do anything tricky, rushing to 3 from close to 4, Chris made the hoop but missed a three yard rush towards C4. Gibbons made the most of the half chance. He hit the ball left behind near 3 from C2, split it behind rover going to Chris's ball roughly level with rover on the East boundary. Took off to a yard in front of rover. Ran the hoop to be boundary and hit a sweaty 5 yard return roquet.
The third game started with a C2 opening. John and Reg joined up level with rover on the East boundary. Fourth turn Fulford lined up a double from a few yards West of C3, shot and missed through the middle (known as the Hogan error). John went to 1b again with a perfect leave and this time Reg's sextuple got off to a much better start rushing across and peeling 1b rolling to hoop 1. From there on the sextuple never looked in doubt.
The plate play-off was contested between Marcus Evans and Ian Lines. The event used to be a straight forward draw and process, but nowadays only the players failing to get out of the blocks get two lives and the knockout losers only go into the draw making the two halves very lopsided. Marcus came through the draw beating Noble, McBride, Death, Cumming and in the final Beijderwellen. Ian had won the much softer looking process beating Bowen, Parish, Bradforth and Vincent.
Marcus established the first break but managed to cross-wire himself at 2b. Ian allowed Marcus a shot before getting going. After 3b Ian played for a diagonal spread, but in placing the ball by the peg left himself hampered and missed. Marcus decided to go for a TPO and double peg out. Had enough control to also peel partner through 2b. Ian had the best of the start of the two ball game 2-balling from 3 to 1b and then picking up another 2-ball break from 1b with Marcus on 4b. Ian played a long approach to 3b sending Marcus's ball most of the way to 4b, then ran the hoop only by a couple of feet. He opted to go to West boundary level with 4b. Marcus hit from 7 yards. Rolled up to 4b. Approached penult sending Ian's ball up to rover. Ran penult of the S boundary. Missed the ball at rover to just West of B-baulk. Ian took his lift, tapped Marcus's ball but failed to roll up to 4b. Reminiscent of Reg against Dave, Ian tried to take wired position leaving his ball completely open. Marcus rushed reasonably close to rover and finished.
Didn't really see any of the Y doubles or Z but congratulations to the respective winners, Kibble & Beijderwellen, and Jenny Williams.