Tim Wilkins and Sam Symonds married on July 23rd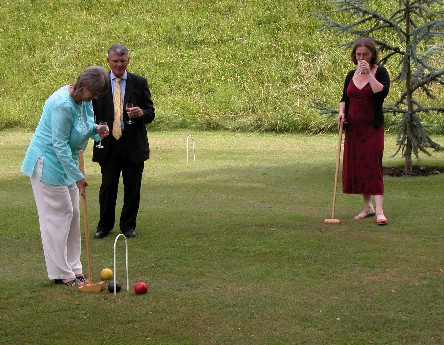 The Noble art of croquet
by Dave Kibble
29th July 2005 (
Other News
)
It was always going to be a great occasion: wedding in the lovely old church at the heart of Glastonbury, followed by a reception at the Bishop's Palace, Wells; but Sam (and maybe Tim had a hand in it too) turned it into a fabulous day for everyone.
Sam and Tim met on the croquet court at Surbiton, in a club match, which Tim won. In his speech, he rather cryptically said, "Had I known how it would turn out, I might have lost it".
The newly married couple emerged from the church through an arch of croquet mallets, provided by a score of croquet players, and then it was off to the reception at the Bishop's Palace. We enjoyed champagne in the sunshine on the South Lawn, where Victorian croquet was set-up ready for play, and of course the giant Jenga was there - which allowed Rutger to win £20 from an unsuspecting guest!
After the wedding breakfast it was up to the long gallery for coffee and cake while the room was prepared for the first dance. We were all waiting for this, Tim is a well-known clubber, and Sam dances several other styles, but to the sound of Habanera from Bizet's Carmen they danced an inch-perfect tango, finishing in style to enthusiastic applause.
Once it was dark, there was a spectacular fireworks display on the ramparts above the lawn and then final drinks and home, tired and very happy.
Good luck to Tim and Sam from your many friends in the croquet world.
---