Sussex won the Golf Croquet Inter-County Championship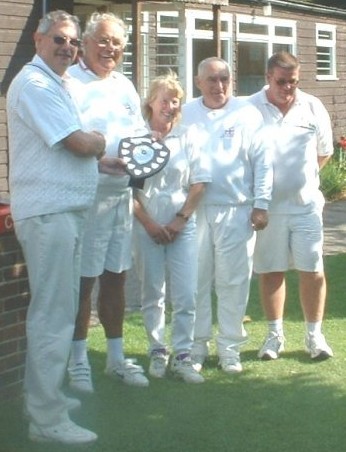 Manager Don Beck with the Sussex team
by Bill Arliss
14th August 2005 (
GC - Championships
)
The competition was considerably enhanced with new entries from Leicestershire, Suffolk and Surrey. With regulars Kent, Dorset, Northumberland, County Durham, Oxford and Sussex plus a CA Select team, a total of 10 teams met at Southwick over the weekend of 13/14 Aug.
The format was an initial American block with each team of four playing two singles and one doubles against all others in the block. Each member of the team had to play singles and doubles in alternative rounds. The rain held off for most of Saturday but settled in very solidly for the eighth and final round on Saturday evening. At the end of play, Sussex and Oxford had six wins each with Dorset and Surrey close behind on five wins.
The final block round was played on Sunday morning putting Sussex (Bill Arliss, Daphne Gaitley, David Hopkins and Mark Hamilton) in a clear lead with seven wins, Oxford second with 6 wins, Leicestershire third with 5 wins and 14 net games. Three counties tied for fourth place, all with five wins and 13 net games. Manager Don Beck sorted this out with a shoot out from the boundary to hoop five. Dorset showed their shooting skill to gain fourth place.
In the semi-finals two rounds of two singles and one doubles were played with Sussex beating Dorset 4-2 and Oxford beating Leicester 4-2. For the final, the second round was changed to four singles matches with Sussex clinching the final game to take the title 4-3 and Leicestershire beating Dorset 4-3 in the 3rd/4th place playoff.
A large influence on Oxford's good results came from young Nick Butler whom raced through the weekend without a loss in his singles games. On the way he collected the scalps of several -2 and -3 players and found himself suitably rewarded with a cut from 0 to -2.
---