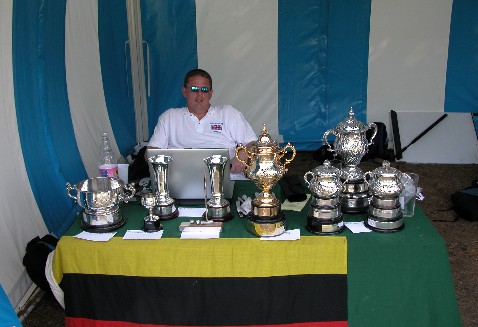 Dave Maugham - Manager and Champion
by Chris Clarke
17th August 2005 (
AC - Championships
)
This year's Opens returned to Hurlingham and, despite some people's fears of a reduced entry, 46 players, one more than last year, played in the singles. We were pleased to welcome Leo McBride and Brian Cumming from Canada, Rosie Graham, Peter Landrebe and Jonathan Bowen from Australia, and Stewart Jackson from America. With the World Championships only a month away, this was not the major event of 2005, merely an opportunity for the top players to engage in early sparring and for the MacRobertson Shield hopefuls to exhibit their ability.
The weather was grey and overcast and the lawns were green and easy-paced, though with a hint that good weather could speed them up noticeably. With the ground soft, the hoops were very easy, and the automatic watering on the cricket pitch meant that peeling finishes were compulsory, but it was only time that would tell whether it would be triples or sextuples that won the day.
The first three days of the tournament were allocated to singles block play, and saw a few surprise results. When Ian Lines returned after an hour of his game with Martin Murray, no one was surprised - except when Martin announced to the manager that it was he that had won 25TP, 8th turn. More games than not were finished with peeling turns, and most games finished in under an hour and a half. It was somewhat of a surprise, therefore, when Michael Heap, playing on lawn 4 against Louise Bradforth, finished with a "T", but no "P" on his +2 game. The best performance of the block stage was by Reg Bamford, who completed 7 consecutive sextuples, to win the block without dropping a game, the only player to do so.
Tuesday morning saw a set of results that had the male chauvinists running for cover. Double-banked on lawn 2 were Louise Bradforth against Robert Fulford, and Jenny Williams against Andrew Gregory. Whilst on the adjacent lawn 3, Rosemary Graham was playing George Noble. The odds of all three winning were slim. The odds of all three winning with triples, even slimmer. But never-the-less, the gentlemen were all put to the sword to complete a remarkable morning for the gentler sex. Sarah Burrow was delighted that the other three ladies had done so well, but felt obliged to make sure everyone knew that she was the first lady to have had a 26TP win that week.
To qualify from your block at the Opens is much easier than qualifying from your block at the Worlds, since 50% wins is all that is required. It must therefore have been disappointing for Marcus Evans, Ian Lines and Robin Brown to all fail to qualify.
The doubles started on Wednesday, and many people were looking forward to seeing how the newly-formed doubles partnership of Reg Bamford and John Gibbons would get on, after Reg had been dropped by Stephen Mulliner in favour of Matthew Burrow. Reg seemed particularly up for it, given the fact that Stephen had asked Matthew to partner him before telling Reg.
Doubles is rarely quick, but on the easy-paced lawns, few expected the Davis + Morrow vs. Noble + Vincent match to be won +8 on time after 9 hours in the third. However, there was an excuse for this, since the match was on the slightly tricky lawn 10. As if spurred on to greater feats of lawn occupancy, they then beat Peter Landrebe and Rosie Graham +1 on time in the third on the very easy lawn 3.
Bamford and Gibbons started against past Champions Farthing and Patmore and were soon game down. The lift shot was missed in the second and it was looking like a short-lived partnership before Patmore rolled back into the rabbit-run having run hoop 3 with a triple laid out. From here, Bamford and Gibbons took control to win the match, 26TP in the third.
Clarke and Fulford had started well with four triples in their first four games and decided to celebrate the all-Colchester quarter-final against Heap and Wicks by trying to become the first doubles pair to have a sextuple each in a match. Fulford's sextuple in the first was routine and Clarke seemed to have his under control, having jawsed the rover peel and jumped over to the boundary, however a missed 5 yarder cost them the record, but not the game.
Hector and Mundy vs. Cumming and McBride had a very interesting start. Mundy went and put the clips on at the start of the game and after about 40 minutes, they were about to put their first clip on 4-back, when they wondered why it had a blue top. No-one had realised that Dave had put the clips on hoop 3 instead of hoop 1. Referees were called and the balls were eventually put back to their positions many turns earlier when the Canadians had first been misled. McBride and Cumming went on to win the match and then disposed of Avery and Maugham.
Players arrived on Thursday morning to find that several of the competitors had been delayed by problems on the Tube. A "power surge" was blamed, but as the morning wore on, everyone became more than aware that London had suffered its worst terrorist attack for many years. With the wail of sirens in the background, the tournament continued with all the seeds struggling to overcome their weaker opposition.
On the cricket pitch, Robert Fulford was playing Patrick Hort. The first game was scrappy, but looked to have gone Robert's way when a failed wiring at 1-back by Patrick - who was on 1-back and peg - allowed Robert to hit in with his hoop 6 ball leaving a fairly-straightforward double peel finish. It is unusual for Robert's clips to ever find their way onto 6 and penult, but it was even more of a surprise to have them stay there, having had such an easy chance to finish. Patrick took the opportunity and went 1-nil up.
Meanwhile, Maugham was in trouble on lawn 4 against Shane Davis. Shane's play had been improving from the start of the Men's all the way through the last month, and it looked as if he would soon be recovering the form that made him one of New Zealand's top MacRobertson Shield players. The match went to the third game, with Shane reaching penult and peg with a leave, before Dave hit in, winning the match with a TP.
Fulford had equalised on lawn 10, but the decider had seen Patrick maintaining very good shooting form to take the first break. Robert at last showed his dominance with a break to 4-back, peeling Patrick to hoop 3, and after Patrick's last shot hilled off, Robert made no mistake to move into the next round, setting up a rematch of the Western's final with Dave Kibble.
On lawn 5, Clarke had gone 48-nil down to Leo McBride. Leo had won the first game 5th turn and was finishing 6th turn in the second game before the severe hill at rover caused his peel to bounce to the side, which he then followed with a poor hoop stroke to finish on rover and rover. Clarke finished in two turns. Leo overcame his disappointment by taking another 3rd turn ball around, but this time Chris hit the lift and completed a TPO 4th turn, which he converted into a match win 6th turn.
Bamford fared best of the top 4 seeds, with a straight games win over Matt Burrow, which was not free from controversy. Matt had a difficult short, angled hoop which was being watched by a referee when Matt hit the ball while casting over it. Reg was very unhappy about the fact that the ball would now have to be replaced, potentially making the hoop easier, but with the laws as they currently stand, there is no penalty to the striker for doing this.
Patmore had a good win against Death, but the scores of -17TP, +26TP, +26TP somewhat flattered the quality of the match. Avery came from game down to beat Beijderwellen, and Burridge showed that the magic that got him into the 1996 MacRobertson Shield team was still there by coming from game down to beat Mulliner. Of all the performances that morning, it was Peter Landrebe, fresh from the trauma of a long 3-hour tube journey that morning, who produced the best croquet hitting all his shots to beat Jenny Williams in straight games.
The evening entertainment was on lawn 6 with the Kibble/Fulford match. Robert made several errors and missed his last 6 shots to go down in straight games to the Western Champion who has the enviable record of 5 straight wins against the World Champion. Burridge's tournament was over as quickly as it had started, with a disappointing 25TP, 25TP loss to Avery. Maugham was back on Lawn 4 to inflict an 11th turn match win on Heap, who had had to wait 6 hours for his 5 strokes. The final action of the night saw Goacher fail hoop 2 to allow Bamford to end the evening at game all, after failing his sextuple.
Friday morning saw Bamford complete his win against Goacher. Meanwhile on lawn 4, we had an intriguing match between Keith Aiton and Peter Landrebe. Keith has been showing improved form this year and most expected a comfortable win. However, a spectacular 3rd turn ball round involving dozens of yards of roquets from Peter, gave the Australian the best possible start. He then finished the game 5th turn and the match 11th turn to produce one of the best performance from an underdog I have seen for some time.
Patmore eventually made it past Harrison-Wood to set up a match with Kibble. This match was poor and it must be very frustrating for Dave that he has regularly failed to beat lower ranked opponents this year.
In the other top half quarter, Avery had gone game and break up against Clarke, but another last shot was hit and another TPO ensued. Avery approached hoop 1 well, but then failed it from a yard straight. Chris joined in corner 2 and Mark failed a near impossible hoop to give Chris the equaliser. Mark had the first break in the third with the aid of a very lucky hit-in. Chris had failed hoop 1 and Mark, shooting from second corner, missed by a yard to hit the ball in the hoop. Chris again hit his last lift and completed a TPO which he soon converted to a match win .
Meanwhile, Bamford had demolished Gibbons with two sextuples. John had chances, but failed to capitalise on them. Maugham was back on lawn 4 playing Landrebe. Peter maintained his aggressive style of play, but failed his TPO in the first and then rather unfortunately finished in hoop 6 when peeling 3-b going to 1-b on his sextuple in the second allowing Dave a place in the semis.
Saturday morning and shock, horror, Maugham vs. Bamford was not on lawn 4, but lawn 3 instead. The other semi on lawn 2 proved to be as competitive as it looked on paper with Clarke beating Patmore 3-0 with no hoops conceded. The other semi however was very competitive. Dave took the first two games with some good shooting before Reg employed the 20 minute sandwich break to good effect to win the third with a sextuple. The fourth was the most interesting game of the tournament. Reg went round 3rd turn and as usual stopped at 3-b. Dave hit the lift and to the surprise of most embarked on a QPO. This became slightly delayed, but it was completed without too much worry allowing Dave to peg two balls out. Reg approached hoop 1 and ran an excellent hoop, then hit another 10 yarder to have croquet near corner two. In most circumstances, this would be easy for Reg, but he failed the hoop. Later, with Dave in front of hoop 1, Reg failed a 1 yard hoop 3 from fairly straight, bouncing over towards hoop 2. Dave took full advantage and established a 2-ball break, which he had under good control until he left himself a long 4-b at Reg's' hoop. With most thinking caution was wise, Dave ran the hoop to obtain a good rush to penult which he inexplicably over-approached. The game then became tactical, with Reg in front of hoop 3 and Dave near hoop 2. In an attempt to position in the jaws of hoop 3, Reg ran the hoop and felt forced to shoot at Dave, missing. Dave then missed a slightly hampered 5 yarder, giving Reg croquet. Eventually, Reg mis-approached hoop 4 and decided to try and take wired position which if successful would still give Dave a 9-yarder or the option to take position at penult from the end of B-Baulk. As it was, he failed the wiring, leaving Dave a rush to penult from which he finished despite another poor approach. Many people say that the top players are very good under pressure. In my experience, this is not true, they simply have a much greater "comfort zone" in which they can play without requiring shots they find difficult. In game four, Dave managed to take Reg out of his comfort zone and was rewarded with multiple errors in the two ball game.
The singles final was completely one-sided. Maugham failed hoop 1 3rd turn in the first, but Clarke failed to get through the rabbit run at 3 and despite a further failure at hoop 1 from Dave, Chris was unable to capitalise, failing hoop 4. Dave eventually finished with a TP. After this shocking first game, Dave played very well with tight 6th and 5th turns wins in the next two to win the Opens for the first time. With an excellent Presidents Cup record and some superb performances in the MacRobertson Shield it is only fitting that the top trophy in the British game now has the name Maugham on it.
The doubles final saw the new pairing of Bamford and Gibbons face the old guard of Fulford and Clarke. The first game was a routine 26TP to the defending Champions, but Reg was on a sextuple to equalise in the second. It became delayed and ended up needing to complete an STP. The four back peel was made and after another 27 minutes, Reg walked off the lawn, having peeled John to rover and pegged himself out. Robert then played an excellent turn, going to the peg, peeling Chris to hoop two and laying up guarding corner 2 with his ball propped on the left hand wire of 1-b. John cornered and Chris started the wiring game which failed after hoop 3 when he missed a 3-yarder. John hit from corner 2 to south of 3, split the ball behind rover, going to the ball level with hoop 5, took off to rover, and finished.
In the deciding game, Robert went through the middle of a double 4th turn, John went to 1-b 5th turn, and Reg finished with a good sextuple 7th turn. After a weak start where he admitted to feeling nervous playing with Reg, John produced a perfect performance in the final and can feel proud of his first Championship win.
An excellent tournament overall and thanks to the Hurlingham and Parsons Green clubs for the use of their lawns. I hope to be able to return from my new life in New Zealand each year to play in many more Opens, but if I don't succeed, "So long, and thanks for all the hoops".