East Dorset beat Tyneside at Ashby 6-1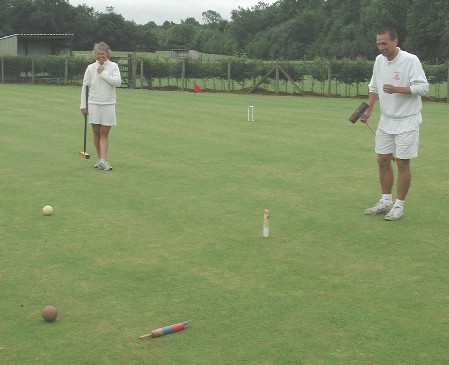 John realises that the peg WAS in the way, after all!
by Chris Daniels at Ashby CC
24th August 2005 (
GC - Inter-Club
)
It was bound to happen - Tyneside (oop t'North somewhere) and East Dorset (southern softies) managed to draw each other in the semi-final of this year's competition. Neither side fancied the long away trip, with the accompanying injections, passport controls and dodgy food, so they compromised on somewhere in-between, but still an awfully long round-trip from both outposts of humanity.
Ashby CC did us proud, with the lawns at Moira playing very well despite heavy downpours during the day. Both teams would like to thank Ashby's members for giving up their lawns for the day, and in particular Eileen Buxton for looking after both the hoops and the coffee!
We'd also like to apologise most profusely for the thuggish play of John Moore, Tyneside captain (and we wish to stress, absolutely nothing to do with East Dorset club in any way whatsoever) - John (near hoop 11) was blocked from running hoop 12 by Julie Hudson's ball, so decided to attempt one of his legendary jump-shots. Well this one just added to the legend. Despite not being blocked by the peg, John's jump proceeded to hit the peg full-on at pace, halfway up, smashing it into two pieces ! He did have the decency to offer to go to the local hardware store for super-glue...
As for the play, virtually every match was tightly contested, with East Dorset sneaking all three morning matches in the rain, with Julie in particular doing very well to come from game down to win against John. It always looked like they would get the final point somewhere in the afternoon, and this privilege fell to William Ormerod, who can still give the youngsters a run for their money even at GC, with his straight games win.
With Julie chiming in with her win over Alan Thwaite (playing off +6, but clearly destined to come down, as he gave both opponents a scare or two), it was left to firstly Derek Old and Chris Daniels to contest a third game (Chris finally running the deciding 3ft hoop after missing the previous 2ft attempt !), and then for Bruce Rannie and Tom Weston (trundling round behind on the same lawn) to go to the thirteenth hoop of the final game, with Bruce's excellent controlled hoop-running just holding sway.
A good match conducted in an excellent spirit, and by the end of the day, the sun had even come out!
Results
East Dorset names first:
Chris Daniels (-3) & Tom Weston (-2) beat Derek Old (-3) & Bruce Rannie (-2), 7-6 7-3
William Ormerod (-2) beat Alan Thwaite (+6), 7-5 7-2
Julie Hudson (0) beat John Moore (-2), 6-7 7-5 7-2
Chris Daniels beat Derek Old, 7-5 6-7 7-4
Tom Weston lost to Bruce Rannie, 4-7 7-6 6-7
William Ormerod beat John Moore, 7-3 7-4
Julie Hudson beat Alan Thwaite, 7-5 7-4
---