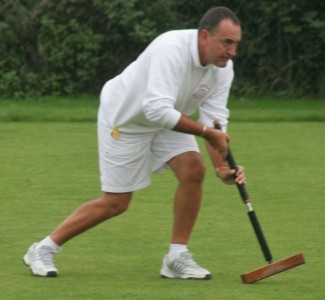 Nelson Morrow
by Samir Patel at Surbiton
9-11 Sept 2005 (
AC - Championships
)
Day 1 saw a range of performances, with the first result a decisive +25TP by Dave Trimmer over Andy Davies. Others found the fast(ish) (11 seconds) conditions harder, and with some tight patchy games. Closest was Louise Bradforth's +1 win over Mark Gooding in over three hours, although there were three other first round games still in play at this point, all three completing after Dave had won his second game (over Kevin Carter). The last first round game finished just after 2pm, without having broken for lunch.
The aim of completing a minimum of three games each looked to be just in reach when a thunderstorm temporarily suspended play a little before 6pm. When Beverley Brook (running past the North boundary of all lawns) burst it banks twenty minutes later, play was abandoned for the day. By 7:30, lawns 3,4,5,6 and 7 were completely under water (up to 2 inches deep).
This left a confused situation, with some players only having completed two games (others have completed 3). The top four players in the Swiss (plus ties, reduced minimum of 5 games) progress to the knockout stage at the end of Saturday. In theory, all 16 players are still in contention, although the likelihood is that only 9 are still in a with good chance of making the cut.
The morning of day 2 saw the waters drained, and the previous day's pegged-down games resumed. Trimmer completed his game as efficiently as he had completed his first game yesterday with a +26TP win two turns after the resumption over Richard Dickson. Dave retained his unbeaten run, until a loss to Mark Gooding, who was rising from the bottom of the Swiss after losing his first game -1 to Louise Bradforth yesterday.
While the weak-willed players up the road at Kennington saw repeated delays for light and rain, Surbiton's local climate held, with almost unbroken sunshine until 5pm - which was the cut-off for final games. This saw four certain qualifiers for the knockout stage, with Trimmer clear on 5/6, and Kevin Carter, Nelson Morrow and Phillip Brabazon tied on 4/6. While overcast for the rest of the day, the rain held off for the final few games.
Of these, the most important was Ian Vincent playing Gooding. Mark had the best of early play, taking advantage of Ian's failure of hoop one to establish a break. Mark had progressed to 4-back and peg before a disintegrating vertical spread forced a rough OSL which Ian hit. Four breaks later (and several missed shots by Mark, including a final pawn-brokers from B-baulk into corner IV after Ian's 4-back and peg leave) Ian pegged out to claim the fifth and final place in the knockout.
The other evening entertainment (for the crowd at least) saw a potential 5th turn TP by Richard Dickson against David Mooney fail after Richard over rushed to rover. He proceeded to peg himself out (having forgotten that partner was still for rover), with David still for 1 and 1. David set about 2-balling the remaining hoops, trying for some wires, but leaving Richard lots of shots, at targets of various sizes (including some shots at rover), while David refused to attempt a 3-ball break. With David progressed to rover and peg, laid up on W boundary level with hoop 1 with a rush to rover and Richard on the boundary North of 3, Richard finally hit, rushed to rover and pegged out to win +3.
Nelson Morrow

Nelson Morrow
+14

Nelson Morrow
+17

Nelson Morrow
+17

Kevin Carter
Dave Trimmer
Ian Vincent

Philip Brabazon
+25

Philip Brabazon
So the five players in the knockout were Dave Trimmer, Kevin Carter, Nelson Morrow, Philip Brabazon and Ian Vincent.
Nelson had the best of his game against Kevin, getting to 4-back on 4th turn, and after two missed shots nearly completed a 8th turn TP, only to collide with peelee after making rover. [Martyn c Collingwood b Flintoff 10, Australia 284-3] Nelson pegged one ball off, but Kevin hit is lift, and completed a 3-ball break to the peg, joining near corner 1, with Nelson between hoop 3 and corner III, but offering slightly more than a single ball target, which Nelson hit (the rear ball) to win. Morrow +14.
[Hayen lbw b Flintoff 138; Australia 323-4] Meanwhile Philip Brabazon had progressed to 4-back, but broke down at hoop 6 on the second break. However, Ian Vincent was unable to repeat his form from yester day, and failed hoop 2 with his chance, and never took croquet again. Brabazon +25.
[Kaitch lbw b Flintoff 1; Australia 329-5] In the second semi-final, Dave Trimmer took an early ball to 4-back, with a poor spread. Nelson hit, and after some interaction progressed to 4-back and peg (against 1 and 4-back) with a vertical spread. [Gilchrist lbw b Hoggard 23; Australia 356-6] Dave shot at the ball by rover, missing into A-baulk, leaving himself cross-wired, but with the ball by rover hampered from most of the NE quarter of the lawn. Nelson however, played two good rolls into 4-back and penult, both from around 5 yards, and made both hoops (about 1-2 yards 30-40 degrees) and went on to finish and make it through to the final, despite being the lowest-ranked playing the in the event. Morrow +17.
Lunch (at Surbiton and Kennington)
Final
The final between Philip Brabazon and Nelson Morrow got under way at around 1:30. (single game). I'm not sure whether a full report is wise, but here goes...
Brabazon UK vs. Morrow RY. Conditions: Lawn speed about 10 seconds, hoops firm, ground soft.
R to E Boundary. [Warne c Vaughan b Flintoff 0; Australia 363-8]
U Duffer (9yds)
Y hits R, takes off to B, rushes to 1, fails hoop (in jaws). [McGrath c Strauss b Hoggard 0; Australia 363-9]
K misses U, off wire to vicinity of peg
Y plays break, runs out of position after hoop 3 [Lee c Giles b Hoggard 6; Australia 367 ao] but plays a good roll to recover, and goes to 4-b with a slightly open DSL and also lays up a distance from the boundary, the short shot being about 11yds.
U lifted from near 2, takes the short shot, and misses to E boundary level with rover.
R ignores U, makes 1, returns to U. A thick take-off to Y for hoop 2 places U south of 4. Doesn't get a good rush after 2, but rolls yellow well to 2yd position at 4-b. Peel bounces off 4-back to W side, rushes K into peg. Roll to, U stops short, but in position for 4 without rush. Scrambles through 5 (now on a 3-ball break), hits hampered shot. Continues 3-ball break, returning to Y after 1-b, but K goes half-way between 4 and IV. Manages to jaws Y with a good thick take-off to U at 2-b. Approach is short (1yd 30 degrees), but hoop is made. Another poor rush, leaving U between 1 and 5. R takes-off to K, make 3-b. [Strauss c Kaitch b Warne 1; England 2-1] Runs, sends K to penult, takes off from U again, but lands N of Y in jaws of 4-b. Un-peels Y in the roquet, and then fails 4-b.
K lifts, makes double of R and Y, hits Y. Rolls Y back to 3, but K collides with R, which stays in the jaws of 4-b. [Bad light stops play; England 6-1]. Tries to drive R to 4 (intended to then join with B between 1 and 5, but sends R off.
Y hits K, rushes U to R, poor rush to 4-b, Roll isn't much better. Attempts hoop, and runs (just), and tickles the hampered shot. Break to the peg, attempts to dig out an DSL, but leaves K south of the peg, B near 2. R and Y (3yds apart) on E boundary north of 4.
K lifted, takes the (very) long shot at U into II
R taps Y, takes off to K, leaves 8yd shot into corner, which is hit with a full Nelson. Good rush on U to 4-b, but leaves a rush S. Under rolls penult (U 3yds S of penult), and eventually declines hoop and returns to mother.
U lifted, and hits K 1ft E of II. Take-off to Y, gets cannon with R. Poor (under hit) shot, leaves 10yd roll to 1, leaves 1yd angled hoop which he makes. Rolls to Y, rushes to N of 2, fails take off behind K. Stop shot approach to 2 (K to 1). Turns down long hoop and joins.
Y hits R, takes off to K bit hits hoop 1. Lucky to avoid jaws, but leaves shot at K. Leaves K SW of 1, U N of 2 (wired from K) and joins mid-way between 3 and 4 with a rush for R to penult.
U misses Y and R by nothing
R rushes Y poorly (again) to half-way to penult, takes off to 2yd hoop. Blobs.
U hits Y, rushing it almost to II. Sends Y to hoop 4 (?!), going to R. Good roll to 2, rushes to 3 but runs to peg high. Hits 9 yd return (to N boundary), take-off to Y, makes 4, but now has R on boundary N of 6, and K on boundary S of 1. Rolls U to 5, rushes Y to middle of E, takes off to R, then back to 6, runs, but catches enough wire and has an unexpected rush to Y rather than 1-b. [Play resumes, Australia with sunglasses] Rushes U to Y well, then Y to K and K to 1-b. Now has a 3bb and goes to 4-b with an NSL. R is at 4; Y is 5yrds SE of 2.
R takes long lift, hits U (in-lawn ball), rushes K past Y, but just takes off to Y, rather than putting a rover pioneer. Poor rush to penult, under-rolls, and fails hoop, clear on N of penult. (Clips: K for 1, U for 4-b, R for penult, Y for peg)
K hits Y. Lines up to play Y, sending K to 1, but notices in time, and swaps the balls. Then has a change of mind, and sends Y to 2, hits R, takes of short of U and misses trying to cut it to 1.
R misses Y.
K hits U, takes of short of R and misses (having turned down the nearer Y)
R hits K, gets rush on Y, severely over hits rush, but it glues itself to penult. Makes rover of K. Rushes Y to peg, avoiding grievous by about 3 inches. Morrow +17
List of Players
Gary Bennett, Philip Brabazon, Louise Bradforth, Kevin Carter, Ken Cooper, Andy Davies, Richard Dickson, Mark Gooding, Andrew Gregory, David Mooney, Nelson Morrow, Richard Smith, Dave Trimmer, Ian Vincent, Tom Weston, Lawrence Whittaker
Handicap Changes
Dave Trimmer 0.5 to 0
Nelson Morrow 0.5 to 0
Philip Brabazon -0.5 to -1
Richard Smith 0.5 to 1
Peeling Stats
1xOTP (Bennett)
1xSTP (Dickson)
7xTP (3xTrimmer, 1xGooding, 1xVincent, 2xDavies)
Final Positions
| Pos | % Wins | Swiz | Name |
| --- | --- | --- | --- |
| 1 | 77% | +45 | Nelson Morrow |
| 2 | 75% | +46 | Dave Trimmer |
| 3 | 62% | +24 | Kevin Carter |
| 4 | 62% | +23 | Philip Brabazon |
| 5 | 50% | +5 | Ian Vincent |
| 6 | 62% | +11 | Richard Dickson |
| 7 | 60% | +10 | Andy Davies |
| 8 | 50% | -3 | Tom Weston |
| 9 | 57% | -5 | Ken Cooper |
| 10 | 42% | -12 | Lawrence Whittaker |
| 11 | 40% | -15 | Mark Gooding |
| 12 | 37% | -17 | Richard Smith |
| 13 | 33% | -21 | Gary Bennett |
| 14 | 28% | -28 | Louise Bradforth |
| 15 | 22% | -30 | David Mooney |
| 16 | 33% | -32 | Andrew Gregory |
Full Results

Richard Dickson beat Tom Weston +8
Kevin Carter beat Ken Cooper +18
Ian Vincent beat Richard Smith +14
Louise Bradforth beat Mark Gooding +1
Lawrence Whittaker beat Andrew Gregory +2
Philip Brabazon beat David Mooney +16
Dave Trimmer beat Andy Davies +25tp
Gary Bennett beat Nelson Morrow +5
Dave Trimmer beat Kevin Carter +21
Andy Davies beat Ken Cooper +11
Philip Brabazon beat Gary Bennett +4
Nelson Morrow beat David Mooney +23
Kevin Carter beat Louise Bradforth +25
Mark Gooding beat Richard Smith +25tp
Dave Trimmer beat Ian Vincent +11
Richard Dickson beat Lawrence Whittaker +17
David Mooney beat Andrew Gregory +8
Nelson Morrow beat Tom Weston +26
Andy Davies beat Louise Bradforth +23
Ken Cooper beat Richard Smith +3
Mark Gooding beat Gary Bennett +16
Kevin Carter beat Philip Brabazon +4
Tom Weston beat Ian Vincent +12
Nelson Morrow beat Andy Davies +17
Dave Trimmer beat Richard Dickson +26tp
Lawrence Whittaker beat Louise Bradforth +5
Andrew Gregory beat Gary Bennett +20
David Mooney beat Mark Gooding +10
Kevin Carter beat Richard Dickson +17
Dave Trimmer beat Philip Brabazon +8
Andy Davies beat Richard Smith +23
Mark Gooding beat Ken Cooper +17
Ian Vincent beat David Mooney +14
Nelson Morrow beat Lawrence Whittaker +16
Andrew Gregory beat Tom Weston +8
Gary Bennett beat Louise Bradforth +7
Richard Smith beat Richard Dickson +2
Philip Brabazon beat Andy Davies +9
Mark Gooding beat Dave Trimmer +25
Ken Cooper beat David Mooney +14
Ian Vincent beat Kevin Carter +16tp
Louise Bradforth beat Andrew Gregory +3
Tom Weston beat Gary Bennett +8otp
Dave Trimmer beat Nelson Morrow +17tp
Philip Brabazon beat Mark Gooding +25
Lawrence Whittaker beat Andy Davies +10
Ian Vincent beat Mark Gooding +5
Tom Weston beat Richard Smith +1(t)
Richard Dickson beat David Mooney +3
Nelson Morrow beat Kevin Carter +14
Philip Brabazon beat Ian Vincent +25
Richard Smith beat David Mooney +3
Andy Davies beat Tom Weston +16
Richard Dickson beat Louise Bradforth +16
Gary Bennett beat Lawrence Whittaker +19
Ken Cooper beat Andrew Gregory +11
Nelson Morrow beat Dave Trimmer +17
Kevin Carter beat Mark Gooding +5
Andy Davies beat Gary Bennett +17tp
Tom Weston beat Lawrence Whittaker +17
Richard Dickson beat Ian Vincent +11stp
Ken Cooper beat Gary Bennett +2
Andy Davies beat David Mooney +15tp
Richard Smith beat Mark Gooding +10
Nelson Morrow beat Philip Brabazon +17