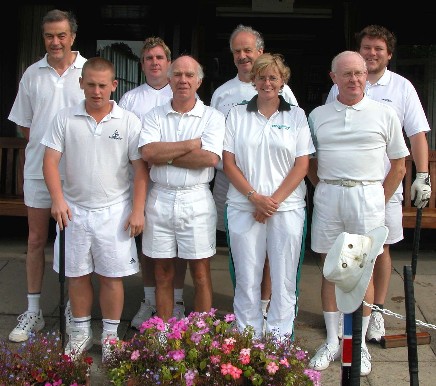 by Jack Wixy Wicks at Bowdon
7-11 Sept 2005 (
AC - Championships
)
This years Ell was held at Bowdon, the conditions were very easy and the standard of play was excellent. The club provided brilliant cold and hot lunches, and the atmosphere was very friendly, with a few locals coming down to watch in the afternoons.
Of the 56 games 19 were won with triples. And possibly for the first time all the players finished with at least 1 TP. Paul Smith left his triple a bit late, he waited for the 14th round after he had failed to convert 3 earlier chances. At one point Wicks had a run of 8 TPs for and against him!
There was some controversy on the first day, it came to light that not all of the balls (Dawsons) were the same size. The ROT, Panther, had spent ages the night before (trying) to set the hoops perfectly, but made a schoolboy error and used the same black ball to set all hoops on each lawn. In the third round, Tudor had to play Heap and became suspicious when Heap, after winning the toss, chose red and yellow, due to black being larger than the rest. This put Tudor off a bit, but after having trouble at hoops 1 and 2 he managed a convincing victory.
Thursday was all going well, until the manger decided to try and persuade everyone to start the 7th round early in the rain, his argument being that there would be heavier rain the next morning. Most of the players were willing to get wet, but not Jenny Williams, she insisted on going home to get her contact lenses before starting, because apparently she couldn't play with her glasses on in the rain. But by the time she got back it was raining so heavily that she was no longer expected to play. Heap vs. Wicks was pegged down after the 7th turn, no hoops made. But Paul Smith made the decision that he wanted to get to 4-back and carried on in the driving rain, with some laying water on the lawn.
On Thursday evening the Presents Cup people came over to Bowdon to indulge in a Chinese take away. However when they turned up there were still games going on luckily, because the highlight of the tournament was Mark Avery refereeing a David Harrison Wood hampered shot. David only just grovelled through penult and called on Mupp to ref in front of a 20 strong crowd. Panther lived up to his reputation and took about 5 minutes over the shot, this was far too long for Mark, and he just couldn't concentrate. First of all Mark got himself in to what looked like a very uncomfortable position, crouching at 90 degrees to the hoop but he couldn't keep this position up so had to lean forward on his knuckles, but then after 2 seconds he decided to lean back again, and so it went on. He couldn't watch the ball for longer than 20 seconds when he would look up, or clean his ear out. It was a had to be their moment but at the time everyone was wetting themselves, and no one really noticed that Panther had missed.
Many of the players commented on how nice it was to have 2 eights close enough to meet up and no one could remember this ever occurring before.
All players were to arrive on at 9:30 on Friday morning, to finish, or start in the case of Williams vs. White round 7. Heap had a nice tidy turn to 4-back against Wicks, who then had a TPO. Heap eventually hit a 16-yarder, after Wicks got hampered after penult leaving a ball in the middle, and played a good roll to get a 3 ball break, which he took round from hoop 4 to win +3otp.
On Saturday four rounds were completed with the exception of the Panther vs. Jenkins Match. Michael couldn't make a management decision on how to approach the final day. Only one round was to be played, plus the pegged down game. At first Michael wanted Jenkins and Panther to turn up at 9:30 to finish their game, but Panther wasn't happy and let Heap know that that wasn't going to happen. Heap then decided in his wisdom that we had to play round 14 before the pegged down game and so we were all to arrive at 9:30. Nobody agreed, so their was a rebellion against the manger who eventually came to his senses and agreed at 10:00 start for everyone, with the pegged down game being played after round 14 at the same time as a play off, if one was needed.
To win the tournament Tudor needed to beat Panther in round 14, or hope that Jenny lost as well if he did, to avoid a play off. Am not sure of the exact colours of the balls, but Tudor vs. Panther went something like this:
Tudor goes in with U & K
U supershot ball.
R Corner II.
K hits R, Plays very good pass roll getting R level with 6 in front of 2 and K within 4 yards of U. K tonks U to somewhere near 1, but under approaches and fails the hoop.
Y hits ball at 1, goes to 4-back.
K misses long lift.
R rushes poorly to 1, blobs the hoop.
U hits from 2 and goes to 4-back.
R missed short lift.
K finishes an untidy triple, doing the rover peel going to 2-back and then failing to get any pioneers with 3 yards of any hoop!
Jenny and Richards game was quite good as well.
Jenny got to 4-back & peg against 1 & 3.
Richard hit his last shot with hoop 1 ball and went to peg and pegged Jenny's peg ball out. Leaving his hoop 3 ball in VI and peg ball in II.
Jenny tried to roll out of VI to 4-back, didn't, took position at 4-back.
Richard took on a sweaty shot with hoop 3 ball somewhere between 2 and 6 at peg ball in corner II to win. Hit that and finished.
Wicks had a 7th turn TP against Heap.
Paul Smith had a good TP turn against Roger after Roger had failed his TP attempt. Roger then did complete his own TP, in the pegged down game against Panther. Although the last one to get his TP it was actually in round 11. Afterwards Roger commented that he didn't want to feel left out.
The presentation was made by Jackie Granger Brown who fittingly had known Sam since he first started playing. Various pictures and things are on the Bowdon website.
In the picture (L to R): Michael Heap, Jack Wicks, Richard White, Roger Jenkins, Paul Smith, Jenny Williams, David Harrison-Wood, Sam Tudor
Oh, and if you were wondering about the title - Sam didn't stab anyone, he has very little follow-through so every stroke is a stab!
Final standing
| | | |
| --- | --- | --- |
| | Won | TP |
| Sam Tudor | 11 | 4 |
| Richard White | 9 | 2 |
| Jenny Williams | 9 | 3 |
| Paul Smith | 8 | 1 |
| Jack Wicks | 6 | 4 |
| David Harrison-Wood | 5 | 2 |
| Roger Jenkins | 5 | 1 |
| Michael Heap | 3 | 2 |
Results
Round 1
White beat Harrison-Wood +21tp
Tudor beat Williams +16tp
Smith beat Heap +21
Jenkins beat Wicks +9
Round 2
Jenkins beat Heap +16
Williams beat Harrison-Wood +14
Wicks beat Smith +2
Tudor beat White +5
Round 3
Tudor beat Heap +23
Harrison-Wood beat Wicks +15tp
White beat Jenkins +15
Williams beat Smith +26tp
Round 4
Jenkins beat Harrison-Wood +17
Tudor beat Smith +26tp
Williams beat Heap +4
White beat Wicks +17tp
Round 5
Wicks beat Williams+26tp
White beat Heap +16
Harrison-Wood beat Smith +13
Tudor beat Jenkins +17
Round 6
Smith beat White +13
Williams beat Jenkins +16tp
Wicks beat Tudor +26tp
Harrison-Wood beat Heap +16
Round 7
Heap beat Wicks 3otp
Tudor beat Harrison-Wood +21
Williams beat White +26
Smith beat Jenkins +20
Round 8
Tudor beat Williams +4
Heap beat Smith +10
Wicks beat Jenkins +3tp
Harrison-Wood beat White +16
Round 9
Smith beat Harrison-Wood +3
White beat Jenkins +6
Tudor beat Heap +24tp
Williams beat Wicks +16tp
Round 10
Tudor beat Jenkins +3
Harrison-Wood beat Wicks +17tp
White beat Heap +7
Smith beat Williams +26
Round 11
Williams beat Heap +21
Tudor beat Wicks +15
White beat Smith +26
Roger Jenkins beat David Harrison-Wood +11tp
Round 12
Wicks beat White +7
Heap beat Harrison-Wood +6tp
Williams beat Jenkins +23
Smith beat Tudor +5
Round 13
Jenkins beat Heap +3
Smith beat Wicks +26
White beat Tudor +4
Williams beat Harrison-Wood +5
Round 14
Tudor beat Harrison-Wood +17tp
White beat Williams +4
Smith beat Jenkins +4tp
Wicks beat Heap +26tp