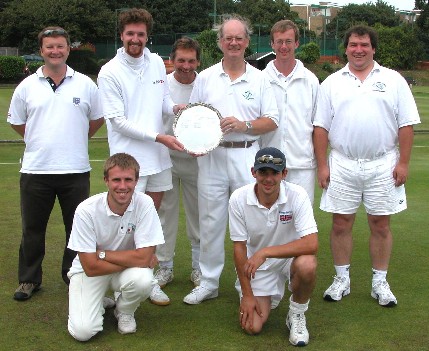 by Marcus Evans at Parkstone
8-11 Sept 2005 (
AC - Championships
)
Five of the eight players who assembled at Parkstone had won the salver before, with the remaining three having only two previous appearances between them. The weather was very good throughout apart from a couple of hour's heavy rain on the Saturday. The lawns were a very easy pace and so hoops were well set to 1/32" (apart from one which was found to be closer to 1/100", to the chagrin of Patmore who had just stuck in it), but soft ground ensured they were quite easy to run.
Despite this there were several close games, including Patmore starting the event with +4, -4, -4, his win coming after Evans, slightly hang-over, managed to hit both balls with his mallet on a take-off. Evans managed to pull himself together in the next round, finishing off the contact (from 4) versus Brown, who played pretty well throughout but was unlucky enough to inspire his opponents into doing the same. However, clearly Evans overstretched himself in this game as he then proceeded to miss a 1" roquet in the next round. Burrow suffered a combination of his opponents' shots hilling on and his own hilling off, including one in near darkness against Lines at the end of day one after he had already expressed the wish to peg the game down. This miss did not improve Burrow's mood, but the manager ignored his alternative suggestion as to what he could do with the game and instead finished with a triple - or so he claims, the crowd couldn't see what happened after penult! In all three games were pegged down (one twice), only two of which involved Goacher.
Game of the tournament must surely go to Patmore-Beijderwellen on day two. Rutger shot hard at Chris' duffer, missing. Chris was just beginning to celebrate an easy start when the ball hit the peg full-on and stayed there. Patmore also missed the duffer, bouncing off 6 to near 1 wired from partner, but the ball on the peg was also wired from everything, so Rutger could only join up. Chris then hit the join with his duffer ball. Later, Rutger made a sextuple leave. After the miss, Rutger accidentally put oppo into the jaws of 3. He then played a good rush to 1-back and a perfect pass-roll peel, but unfortunately the striker's ball hilled by a yard into the jaws of 2-back, unable to hit the ball at 1 and conceding a wiring lift! He was forced to retire to the North boundary, and Chris hit and later finished without Rutger taking croquet again.
A possible runner-up occurred in the next round, and again Beijderwellen was involved, having been TPOed by Evans. Being 4 vs. 1, Evans pegged two out, and played well (with the help of some poor shots by oppo) to reach penult v 5. At this point he played to a couple of yards off middle of East boundary, as Rutger had angled position and no lift. Rutger declined the hoop, hit oppo, played a split to a longer but straighter position, ran it well, hit a ten-yarder, approached 6 from the North boundary, and finished on a 2-ball break.
In the same round, Burrow hit partner third turn and played a croquet stroke, at which point Patmore claimed a wrong ball. Burrow was equally adamant that he had not switched the balls. Since the only spectator wasn't sure, the RoT had no option but to rule in favour of the striker. Later in the tournament Burrow played the wrong ball on the first turn (despite U & K going first in _every_ game), followed by Dawson playing a wrong ball on the second turn. This time the ruling was against Matt, since Jeff's stroke, being with a wrong ball, had not condoned Matt's error, so he was forced to leave a ball in corner III for Jeff to play again.
Some of the players enjoyed a board game on the Friday evening, in which Goacher accused Evans of slow play and Brown scored his second win of the event!
Saturday morning was one of the few rounds in which Goacher did not delay proceedings, as Evans had another double peg out TPO, this time 1 vs. 1 against Burrow. Having lost by three to Rutger when starting three ahead, the reasoning was clear if somewhat illogical. However, this time Evans played rather poorly, and could only reach 1-back v 4-back after several failed attempts to get a break. Three times Evans in front of 1-back hit Burrow in front of 4-back, three times Evans played a shocking croquet stroke, the first two of which sent Burrow off in corner I! Eventually he did manage to run 1-back before Matt ran 4-back, but then immediately failed 2-back, finishing SSW of the hoop. Since Matt had 1-foot position at 4-back he declined his lift, but after making the hoop he retired to the middle of the East boundary in the mistaken belief he was conceding a lift himself (he had a large wired area in which to take position at penult!). This mistake very nearly cost him the game, but Evans missed the peg after rover leaving Matt a five yard peg out, which he just made despite scuffing the ground! Meanwhile, did I mention Rutger was completing his first tournament sextuple on the next lawn? The straight triple finish was made easier by an excellent cannon after 4-back, but the rush to rover has poor and though the peel went through by a foot, the hoop was long and angled. Rutger took slightly too much wire in making it (he wanted a bit to avoid partner) and was hampered from his only escape ball, so he had to hit the peelee. The peg out from behind and to the side of rover just hit before going off the North boundary!
Other highlights of Saturday included Evans failing a fourth turn delayed octuple and Brown finishing on the turn after the contact following a Beijderwellen TPO. Earlier in the game Rutger had made a sextuple leave with the rush the wrong way round, which Brown shot at after failing to notice. Rutger still didn't realise until in front of 1-back, but had another leave rather than making it before doing the TPO. At the end of the day Goacher was one win ahead of the pack with one pegged down game to finish (vs. Brown), and then failed to take croquet in the rest of the event! Better still, all the players left for a Chinese as soon as the pegged down game ended (with Burrow unbeaten at table tennis), and due to some staggered arrivals it was about half-an-hour later before an empty seat was noticed. "Did anyone tell Goacher where we were going?" was greeted with stunned silence. With the empty chair it looked rather like a group of friends dining with one of their number recently departed - there are plans to make "The Goacher Memorial Dinner" an annual event. It turned out he was still in the shower at the club when everyone had left (and locked up!).
On Sunday Rutger and Matt (on six wins) were both playing Dawson and Goacher (on eight wins). They both duly won twice, and Lines (on seven) had a chance to create the five-way tie but was denied by Patmore hitting the last shot via the peg (who also had a combination peg out in round 14 to claim =5th) and Evans finally winning a two-ball ending. So a disappointment on the playing side was a bonus on the managerial front, as was Goacher losing his "semi" -26tp. After a cagey start, the final was standard.
Congratulations to Jeff Dawson on his second Chairman's (first in 1999, and the second year running it has been won by a player not originally selected), and thanks to Ian Lines and the East Dorset Club for excellent management and hospitality respectively.
In the picture (L to R): Chris Patmore, Marcus Evans, Rutger Beijderwellen, David Goacher, Jeff Dawson, Matt Burrow, Ian Lines, and Robin Brown.
Final Standing
| | | |
| --- | --- | --- |
| Pos. | Player | Won |
| 1= | Rutger Beijderwellen | 8 |
| 1= | Matthew Burrow | 8 |
| 1= | Jeff Dawson | 8 |
| 1= | David Goacher | 8 |
| 5= | Ian Lines | 7 |
| 5= | Chris Patmore | 7 |
| 7= | Robin Brown | 5 |
| 7= | Marcus Evans | 5 |
So 4 way play-off.
Results
Round 1
Beijderwellen beat Burrow +26tp
Goacher beat Dawson +9
Patmore beat Evans +4
Lines beat Brown +25
Round 2
Evans beat Brown +14otp
Lines beat Patmore +4tp
Dawson beat Burrow +26
Goacher beat Beijderwellen +14
Round 3
Goacher beat Patmore +4
Burrow beat Brown +17tp
Lines beat Beijderwellen +26tp
Dawson beat Evans +20
Round 4
Lines beat Burrow +17tp
Evans beat Goacher +26tp
Dawson beat Patmore +7
Beijderwellen beat Brown +16tp
Round 5
Dawson beat Brown +25tp
Patmore beat Beijderwellen +19tp
Evans beat Burrow +17tp
Goacher beat Lines +12
Round 6
Beijderwellen beat Evans +3otp
Dawson beat Lines +26
Brown beat Goacher +8
Burrow beat Patmore +14tp
Round 7
Patmore beat Brown +13
Goacher beat Burrow +17tp
Dawson beat Beijderwellen +26
Lines beat Evans +16
Round 8
Goacher beat Dawson +25tp
Evans beat Patmore +11tp
Lines beat Brown +16
Burrow beat Beijderwellen +22tp
Round 9
Burrow beat Evans +1otp
Beijderwellen beat Lines +25sxp
Goacher beat Patmore +26
Brown beat Dawson +3
Round 10
Lines beat Goacher +26
Dawson beat Evans +19tp
Burrow beat Brown +16tp
Beijderwellen beat Patmore +3tp
Round 11
Patmore beat Dawson +26
Brown beat Goacher +11
Beijderwellen beat Evans +15tp
Burrow beat Lines +17tp
Round 12
Brown beat Beijderwellen +8otp
Patmore beat Burrow +26tp
Dawson beat Lines +26tp
Goacher beat Evans +16
Round 13
Patmore beat Lines +5
Brown beat Evans +11
Beijderwellen beat Goacher +26tp
Burrow beat Dawson +25tp
Round 14
Burrow beat Goacher +26tp
Beijderwellen beat Dawson +5tpo
Evans beat Lines +9tpo
Patmore beat Brown +18
Semi-finals
Beijderwellen beat Burrow +14tp
Dawson beat Goacher +26tp
Final
Dawson beat Beijderwellen +26tp