Wixy won the Colchester Open weekend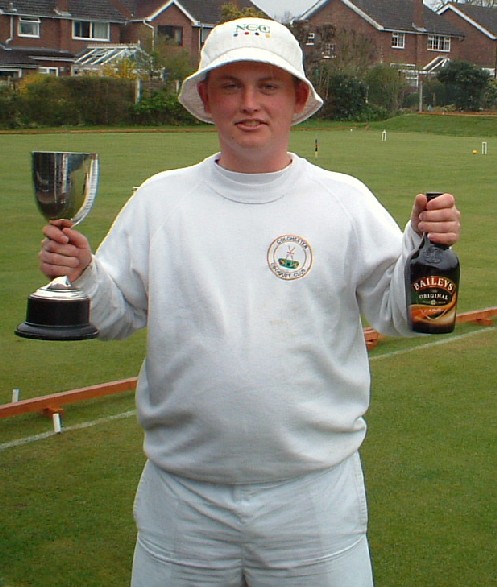 by Rob Fulford at Colchester
23rd April 2006 (
AC
)
Despite the presence of four of GB's MacRobertson Shield team this year's Colchester Open weekend was won by Jack Wicks.
Fulford, Aiton, Kirby and Avery started as the favourites. Avery had a terrible Saturday reaching 2/5 without playing any of the other favourites, while they shared the three games between themselves. Kirby also lost by 3 to a comeback Wicks TP. At the end of the day Aiton looked to be in pole position leading Fulford by merit of who beat whom with Tudor and Wicks still on one loss.
Sunday started with Aiton beating Tudor and Wicks winning a pegged out ending against Fulford after Fulford had put down a winning three ball break. Aiton had already beaten Wicks so a win in his last tough looking game against Avery would probably have seen him home, but twice he failed to finish and Avery completed a TP to win +3. Wicks had his own tight game, another comeback TP to beat Patel by 4 and then sealed victory with a whitewash over Avery.
There was also a prize of a bottle of Baileys using a system designed to give the bottle to the person with the best result relative to their CGS grade and this was won by miles by Jack who would still have won with another loss. Jack's handicap is now -1.5. Also to achieve a handicap reduction was Keith Aiton now at the current joint lowest handicap -2.5 and Steve Woolnough from 2 to 1.5.
Overall Results
Jack Wicks 6/7
Keith Aiton 7/9
Robert Fulford 7/9
Steve Comish 5/8
Sam Tudor 5/8
Jonathan Kirby 4/7
Mark Avery 4/8
Steve Woolnough 4/8
Richard M Smith 3/6
Samir Patel 3/8
Ailsa Lines 2/6
Ian Burridge 2/7
Martin French 2/7
George Woolhouse 1/7
Ian Price 0/5
---