Robert Fulford won the Men's Championship
[<<] [>>] by David Magee at Budleigh Salterton
11th June 2006 (AC - Championships)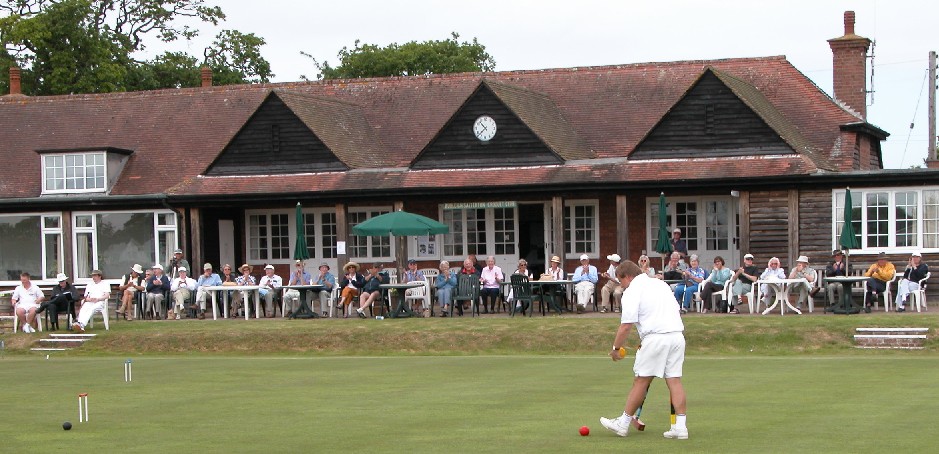 Robert Fulford pegged out his fourth-in-a row fifth-turn finish (a new record?), taking the Men's Championship for the fourth time.
First Round
Second Round
Quarter-finals
Semi-finals
Final
Winner
Robert Fulford*

Robert Fulford
-12, +13, +24tp

Robert Fulford
+26tp, +26sxp, +26tp

Robert Fulford
+1*, +19stp, +26tp

Robert Fulford
+26tp, +26tp, +26tp

Ian Burridge
David Magee

David Magee
+20, +19

Tom Weston
Jamie Burch

Jamie Burch
+13, +15

Jamie Burch
+13tp, +15, -16, -26, +17

Steve Lewis
Deiniol Morgan

Deiniol Morgan
+4, +2

Pete Trimmer
+16, +18

Paul Castell
Martin Murray

Pete Trimmer
+18, +14

Peter Trimmer*
James Death*

Jack Wicks
+14tp, -26, +26tp

Jack Wicks
+8, +14

Jack Wicks
+8, -5tp, +5tpo, +17tp

Jack Wicks
-17, +26tp, +19tp, +17tp

Jack Wicks
Cliff Jones

Cliff Jones
+23, +16

David Mooney
Dave Kibble

David Harrison-Wood
+20tp, +25tp

David Harrison-Wood
Chris Williams

Dave Trimmer
+15, +10

Keith Aiton
+22, +26tp, +23tp

Dave Trimmer
Marcus Evans

Keith Aiton
+22, -6tpo, +26tp

Keith Aiton*
*Jamie missed the peg out in the first game against Fulford, when Fulford was on 1 and 1. He had one more shot in the game, from corner 3 into a trap.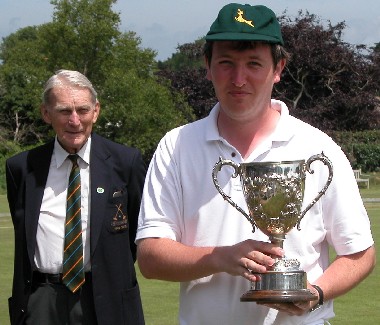 James Death received the Du Pre Cup
from Bernard Neal
James Death beat Marcus Evans +24sxp in the final of the Du Pre, which was played between games 2 and 3 of the main event final. All was over by 1pm!
James won the final in great style, laying for a delayed sextuple. Marcus replied by jumping hoop 1 to hit partner, but unfortunately went off the lawn in the subsequent break. James finished his sextuple with a straight TP, peeling Penult by less than a foot from 2-3 yards at 30 degrees. A rush allowed him to jaws a long Rover peel, then roquet a ball by the peg to approach to an easy-to-jump position - it was routine for James and he made it look effortless to the thrilled crowd.
Earlier in the tournament, Marcus had completed from a similar position using a rush to cannon the peelee to a good Rover-peel position.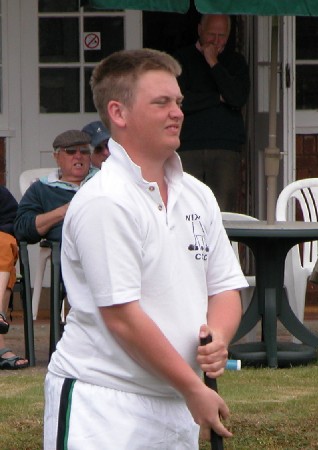 Wixy misses his final lift, thus not
taking croquet in the best-of-5 final.
Jamie Burch and Jack "Wixy" Wicks showed consolidation of their continuing improvement by reaching the semi-finals, Jack beating No.2 seed Keith Aiton in a good match. Jack was understandably disappointed with the final, but Robert gave no quarter and Jack had to hit 18+ yard shots from cold to take croquet.
Dave Trimmer also showed significant continuing improvement, completing several TPs in the week, and he only just missed out on the opportunity to make it an all-Trimmer Du Pre knockout by losing a late evening decider game against Women's champion Louise Bradforth. Dave, Pete's older brother, already has his name on the Du Pre trophy, despite never entering before - due to a mis-communication last time Pete won it!
Keith Aiton reports on the Men's final: Conditions were green and spongy. Rob won the toss and chose to go in 1st and 3rd games. Wixy put Rob in in the 2nd game. Rob put out a supershot ball in each game. Wixy put out a similar length ball to the west of 5 in the 1st and 3rd games, and went to corner 2 in the 2nd game. Rob hit (his partner ball in the 1st and 3rd games and Wixy's ball in the 2nd game) and went to 4-back leaving his standard leave. Wixy missed fourth turn in each game (two "short" shots and one "long" shot) and Rob finished each time, although his TPs weren't entirely without incident (37 minutes, 45 minutes and 33 minutes for the games.)
---