Samir Patel married Anna Noble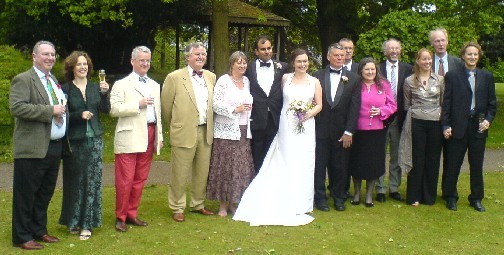 The croquet-player guests
by Dave Kibble
24th May 2006 (
Other News
)
CA Webmaster Samir Patel married Anna Noble, daughter of George Noble, on Friday 19th May 2006 at Pembroke Lodge, Richmond Park. Samir was also celebrating his selection to play for England in the Home Internationals, but that was far from his mind on the day.
The celebration was a stylish affair in a beautiful setting. The bride looked lovely in a modern take on the traditional bridal gown, which included a train. George Noble surprised no one, but delighted all, by producing the perfect Father-of-the-Bride speech, in which he described Samir as a smashing chap and Anna as having developed great serenity as she grew up.
Anna chose the music for the occasion - the first piece after signing the register summed up Samir's good fortune: it was the Bird-Catcher's Song (from Mozart's The Magic Flute)!
The wedding was celebrated further on Saturday at Surbiton Croquet Club with the best Indian meal I've had. The clubhouse was converted into a restaurant that quickly served about 100 people - a real tandoor produced great naan bread to accompany the 15 or so perfectly-cooked dishes.
---