Sue Mackay's Inter-Counties Championship report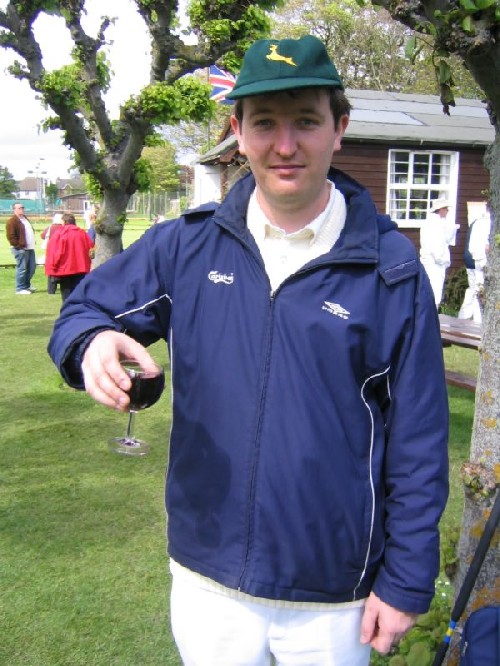 Something's wrong! The Harvey's ran out on Day 2!
by Sue Mackay
31st May 2006 (
AC - Championships
)
Nottinghamshire retained the Inter County Championship with 9 match wins out of 10. Surrey were runners-up with 7 match wins. Looking very smart in Notts County cricket sweaters and caps, the Nottinghamshire team of Richard White (captain), Keith Aiton, Gary Bennet, Dean Bennison, James Death, Gordon Hopewell, Patrick Hort and Beatrice McGlen put on an impressive performance. Going into their final match against Sussex they knew that even if they lost they would retain the championship as long as they won one game, and Keith Aiton's early triple ensured them victory.
James Death played an interesting final game on Lawn 4, winning DP DPO with all four clips on his back pocket!!
The second division was won for the second time in three years by Suffolk, with a strong team of Steve Comish (captain), Mark Avery, Phil Eardley, Sue Edwards, Chris Farthing, Martin French and Michael Percival.
Suffolk lost their first match to Middlesex but thereafter remained unbeaten with 24 games won - the highest number in either division.
Gloucestershire for the second time managed to be the only team to beat the eventual winners whilst at the same time being the only county to lose to the team which came last. This year that was newly promoted Bedfordshire, who started off with a win against Gloucestershire and then failed to win another match. Sussex, also promoted last season, played Essex after lunch on the first day. Essex had their bye in the morning, allowing their players to travel to Southwick on the Saturday. Robert Fulford was driving Jack Wicks and Paul Stephenson but forgot to pack his mallet and had to return for it, with the result that they arrived half an hour late, and the remaining three team members had to go on to separate lawns and each deem a ball. Robert didn't get much chance to play when he did arrive, as Colin Prichard mis-approached 1-back and came off telling Rutger Beijderwellen he would have to do a sextuple - so he did!! Sadly this win and a subsequent straight quintuple from Rutger was not enough to save Sussex, one of the classic 'yo-yo' teams, and they were relegated along with Bedfordshire.
The third relegation place was in doubt right up until the end.
Gloucestershire, Yorkshire and Lancashire were tied on 4 match wins each, but Lancashire lost out because they only won 13 games, as opposed to Yorkshire's 14 and Gloucestershire's 15. Indeed it was the War of the Roses clash at Compton on Bank Holiday Monday, in which Yorkshire beat Lancashire 3-0, which sealed Lancashire's fate. Yorkshire had a good day at Compton despite losing their first two matches, as against Essex Andy Davies performed the first ever successful Yorkshire triple in the Counties.
Glamorgan, who have not played Sussex in the Counties since 2001 because they keep passing each other as both teams yo-yo between the first and second divisions, had their strongest team for some years and gained promotion yet again with 8 match wins. One highlight was John Evans peeling his partner through 4-back from A baulk. The final day saw a crucial match for promotion between Glamorgan and the Channel Islands, both at that point on 7 wins, as were Middlesex. Glamorgan took both games by the top two pairings to secure promotion. At third pairing they had again been reduced to playing Sue Mackay (handicap 10), but with partner Ian Burridge's usual tactic of pegging out an opponent's ball and shepherding her round she managed to reach rover before Tony Le Moignan finally hit in and dug out a three ball break to finish. This win put the Channel Islands on the same number of match wins and the same number of games won as Middlesex, who had lost to Warwickshire in the final match. As the Channel Islands had beaten Middlesex 3-0 they earned the third promotion place. Norfolk sadly failed to win a match and were therefore awarded the wooden spoon.
It was one of the coldest Counties for many years, though apart from the occasional cloudburst and one hail storm it at least remained dry. As usual the mood was convivial and there were many light hearted moments. A squirrel tried to join in the game at one point, and at lunch time Matt Burrow and Tony Le Moignan could be seen playing golf croquet - with golf balls! There was much talk of John Prescott and his croquet playing exploits, and at the annual dinner and sing-song attended by Yorkshire, Lancashire, Cheshire, Northumberland and Glamorgan on Bank Holiday Monday a verse was added to Ilkley Moor - "John Prescott's on our team (with his trousers down)"
Bill Arliss pointed out at the final presentation that some 40 Southwick members are involved in running the Counties, with doubtless a similar proportion of the Compton membership, and a huge vote of thanks was given for all their hard work. Thanks were also given to Chris Williams for managing the event, which as usual proved a wonderful festival of croquet enjoyed by all.
---