Rutger Beijderwellen won the Championship of Surrey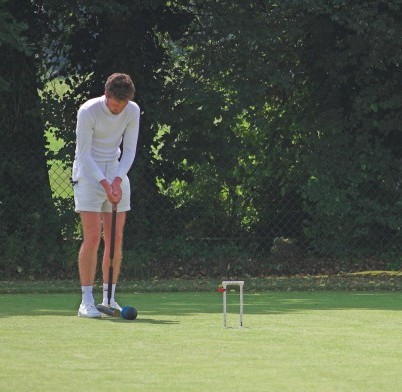 Rutger in play (Photo: Mark Gooding)
by Kevin Carter at Surbiton
16-18 June 2006 (
AC - Championships
)
This year's field was quite open, with Avery, Bodger, Dawson, Mulliner, (Marcus) Evans, Farthing. Sure enough, all six got through to the quarter-finals.
However, even the seasoned campaigners sometimes struggled with the testing conditions. Although the lawns were green and not too fast, at 11 Plummers (equating to 14.5 Lamberts to those who prefer imperial measurements), the ground beneath was like concrete and the hoops were unforgiving. If the conditions outside were testing, the beer inside was subject to extensive tasting: Fullers Chiswick and Gales HSB.
In the best-of-3 QFs Marcus provided a minor upset in deposing Jeff Dawson, who plays so well at Surbiton; and Steve Mulliner quickly despatched the in-form Chris Farthing.
There was time to schedule best-of-5 semis. Mark beat Marcus 3-1 but Stephen had a battle royal against Rutger. Stephen took the first two games but then Rutger pulled game three out of the fire with +2STP. He then followed up with a 26TP in the fourth. As a baking afternoon turned into a still very warm evening, the fifth game could have gone in either direction, but Rutger took it +11.
On Sunday the show lawn received an 8am haircut from George and the hoops were set especially tight for the final. It was the undoing of both players, each blobbing short hoops in the first ten minutes to cries of "Rubbish" from the others busily contesting the consolation events. In fact, this pattern of 'interaction' continued for the full seven hours of the final, but Rutger always seemed to be slightly more at ease and he won 3-1.
Meanwhile, those in the progressive Swiss consolation event fought for a place in the top four, which went into Sunday lunchtime semi-finals and an afternoon final, between Jeff and Mark Gooding, the latter playing ever better as the event progressed, deserving his handicap cut to scratch, even though Jeff won this game.
Marcus was conceded the third place play-off and, to keep him off the streets, was given free entry into the 'Z', where he promptly performed his second ever sextuple (finishing with a straight quad) - an exceptional performance in the conditions.
The other notable performance was from Julie Hudson, by far the highest handicapped player in the competition but winning two games and acquitting herself well in others. She will not remain at 2.5 for long.
An interesting laws issue arose when Gary Bennett made a rush, then with his follow through struck his own ball again into another, sending it into a more favourable position. He faulted himself and walked off, only to be told in the clubhouse that what he did was legal.
Results Summary
Championship
Mark Avery beat Marcus Evans +12, -7TP, +26TP, +26TP
Rutger Beijderwellen beat Stephen Mulliner -17, -17, +2STP, +26TP, +11
Rutger Beijderwellen beat Mark Avery +7TP, -17, +6, +11
Consolation
Jeff Dawson beat Chris Farthing (TP)
Mark Gooding beat Gary Bennett
Jeff Dawson beat Mark Gooding
---