Terrey Sparkes won the Hunstanton Over-50 Tournament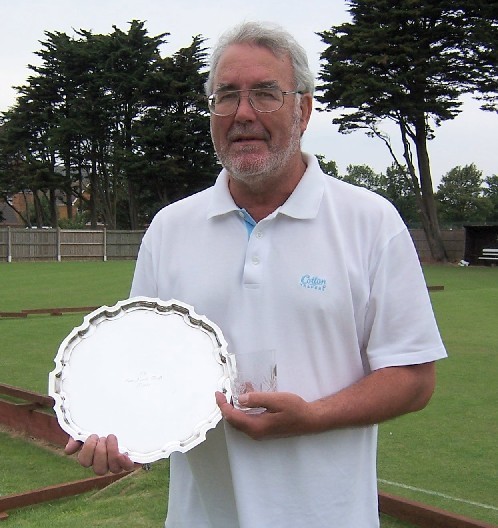 Terrey Sparkes with the tournament trophy
by Ian Storey at Hunstanton
June 16-18 2006 (
Other News
)
The beautiful weather seemed to inspire the full house of players at Hunstanton's Over-50 weekend. Everyone was full of the joys of summer and eager to play, making full use of the excellent lawns, which I believe are better than at any time in the previous sixteen years I have been a member.
Over-50 tournaments are relaxed but fiercely competitive and the result was still undecided when the final games began on Sunday afternoon with several players still in contention. To the delight of the large gallery Margaret Anderton displayed tactics beyond her handicap by pegging out the manager's front ball and her own, leaving her backward ball for rover with his for hoop 4. They cheered loudly when she won.
It was a good weekend for the Andertons as husband Ken finished in second place, which earned a handicap reduction. But Terrey Sparkes emerged a clear winner with 7/8, having remarked on the Saturday evening "I've waited years to play like this!"
1st Terrey Sparkes 7/8
2nd Ken Anderton 6/7
3rd Margaret Anderton 5/6
Handicap Changes
Ken Anderton 4 to 3.5
Margaret Anderton 14 to 12
Paul Hill 4.5 to 5
Terrey Sparkes 4 to 3.5
---