Robert Fulford won The Mitsubishi Motors 2006 British Open Croquet Championship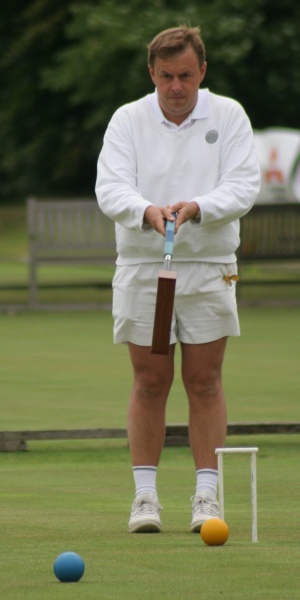 (picture: Samir Patel)
by Chris Williams
9th July 2006 (
AC - Championships
)
Robert Fulford won the Coronation Cup for the seventh time beating Reg Bamford in an entertaining final.
Final started at 10.42
Game 1
Reg (Bk & Bu)
Rob (R & Y)
Bk supershot
R trickles to 2 yards east of Bk
Reg (Bu) from C1 just clips R and embarks on a 3-ball break and is just approaching 3.
10:55
Reg (Bu) to 3-back (to prevent TPO) with diagonal spread. Red on west boundary.
Rob (Y) shoots from end of A-baulk and just clips the inner ball (Blue)
Y has just made hoop 1 off read and has rushed red to east boundary. Bk is hoop 2 pioneer
11:10
Rob (Y) stopped at 1-back with Bk and Bu cross wired at 1.
Reg (Bk) shot and missed.
Rob has embarked on a sextuple
11:45
Rob missed hampered shot after straight rover peel at end of sextuple. Reg is now taking black round
12:10
Reg has just pegged out after a QP to win game 1 +2qp
Game 2
Reg (RY)
Rob (Bu Bk)
Rob (Bk) first supershot.
Reg (R) to peg high on E boundary
Rob (Bu) misses R from C3 to 6 yards south of Bu (Level with hoop 5)
Reg (Y) misses from C3 to level with hoop 4
Rob (Bu) hits Y and embarks on 4 ball break.
12:30
Rob has set another sextuple leave with Bk in C3 and blue 2 yards NE of hoop 3. Reg misses the tea lady shot with Y into C3.
12:55
Rob has completed the sextuple to win game 2 +25sxp. It is now 1-1.
Game 3
13:15
Reg (Bk) laid supershot
Rob (R) trickled and hit. 2-balled it to 2-back (failed to get rush out of 1 back) and laid up with R in C4 and Bk a yard or 2 out of C2.
Reg (Bu) hit Bk took off to R and missed a 6 yarder.
Rob (Y) hit R in C4 from A baulk.
Approached 1 off black from W boundary level with hoop 5. Long hoop 1 and has run it.
13:50
Rob completed the quintuple to take a 2-1 lead.
Game 4
Rob (Bk) Supershot
Reg (R) East boundary peg high
Rob (Bu) Misses R from C3 and ends up 8 yards S on E boundary Reg (Y) From C3 misses into C4
14:12
Rob took Bu to 1 back and Reg has just missed the tea lady.
Rob had a go at the 1-back peel on the way to 1.
14:30
Rob has just missed a return roquet after 2-back having done 4 peels of a sextuple.
Reg has just made hoop 1
15:20
Reg completed the sextuple in game 4 to win +8sxp and tie up the match at 2-2
Game 5
Reg (Bk Bu)
Rob (RY)
For the fifth successive game Bk has gone to the supershot position.
Rob (Y) to peg high on E boundary.
Reg hit yellow with Bu from C3. Now setting off on a 3-ball break
16:20
Reg has just missed a long peg out at the end of his quad and pegged black out. Reg's straight rover peel failed - blue seemed to come back out of the hoop. Reg cannoned the blue through with red but failed to get past blue and ended with a 10 yard peg out. Reg pegged black out
Rob went to take a contact but was stopped by Reg, because Rob was not entitled to one.
Rob is now taking yellow round on a 3-ball break.
16:40
Rob has just taken a ball (Y) round leaving blue just out of corner 3 (probably wired from the peg) and left himself a rush in corner 1
There is a big debate going on on whether Reg should have left black on the lawn.
Reg has not taken the shot, but has put blue into C4
16:55
Rob got as far as hoop 3 and laid up on E boundary.
Reg missed the peg from near C2 and missed Y.
Rob has a hampered shot after 3 which he hit.
Now has a 3-ball break. Slightly awkward approach to 4 leaving a longish angled hoop, which he runs easily. Now has a standard 3-ball break to finish.
17:08
Rob has pegged out to win +1 in the fifth.
The Mitsubishi Motors 2006 British Open Croquet Championship
After three days of block play, 24 players qualified for the knockout section, seeds 1-5 were in order and 6-8 were drawn at random.
First Round
Second Round
Quarter-finals
Semi-finals
Final
Winner

RL Bamford

RL Bamford
+26qp +14

RL Bamford
+12sxp -17tp -26 +26 +17sxp

RL Bamford
+26qp +26sxp -26tp +26sxp

RI Fulford
-2qp +25sxp +26qnp -8sxp +1

L McBride
ET Duckworth

Duckworth
+25 +17tp

ET Duckworth
+26tp +26tp

D Harrison-Wood
PC Trimmer

Trimmer
+7otp +17tp

JF Death

KMH Aiton

Le Moignan
+17tp -26tp +14otp

CD Clarke
+9 -26tp +15tp +15tp

AS Le Moignan
DJ Goacher

Goacher
+15 +12tpo

Clarke
+17tp +26tp

JC Williams
MN Avery

Clarke
+5tp -17tp +26tp

CD Clarke

DB Maugham

Maugham
+26tp +9otp

Maugham
+17tp -17tp +26tp

DB Maugham
+17tp +20tp -26tp +26qp

RI Fulford
+26tp +17tp +8tp

S Davis
IG Lines

Cordingley
-11tp +6 +24

P Cordingley
MVM Burrow

Evans
-26tp +10tpo +26tp

MT Evans

PJ Kirby

Kirby
+25tp -17 +26

RI Fulford
-17tp -26tp +25qp +24sxp +26tp

GSJ Tudor
BW Cumming

Mulliner
+26tp +26

Fulford
+23tp -17tp +21sxp

SN Mulliner
IJ Burridge

Fulford
+26tp +6otp

RI Fulford
---