Robert Fulford & Chris Clarke won The Mitsubishi Motors 2006 British Open Croquet Doubles Championship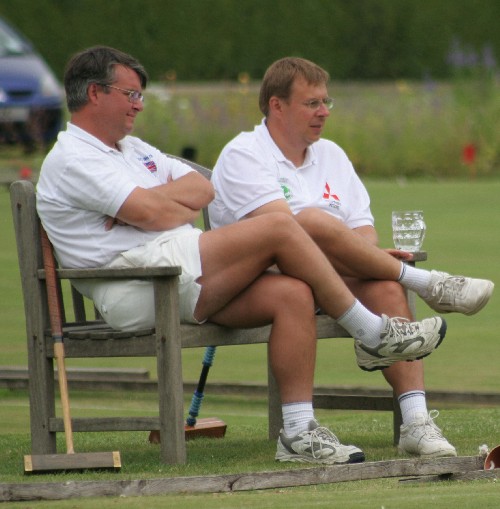 (picture: Samir Patel)
by Jenny Williams
9th July 2006 (
AC - Championships
)
Doubles final: Fulford and Clarke v Kirby and Aiton
Game 1
F/C won toss (Kirby black, Aiton blue, Fulford red, Clarke yellow)
Chris Supershot
Keith East boundary
Rob miss down boundary to corner 4
Kirby miss from A-baulk to east boundary ball
Chris hit with yellow. Failed to approach hoop 2, retired to partner near south boundary
Kirby hit from 2 to 3, went around with a very scrappy break, diagonal spread with Rob's ball on peg not rushing to hoop 2.
Rob hit, went to 4b with 2 peels on Keith.
Leave: reverse MSL with Kirby's ball just in front of jaws.
Keith hit Chris's ball, rushed Kirby's ball out of hoop 2, clipped yellow trying to take off behind it. Approached hoop3 to deep and failed it.
Rob hit 7ish yarder at blue, put it off in corner 4 in croquet stroke
Keith hit 12-yarder, got rush to hoop 4 with partner, failed to approach hoop 4
Chris hit from 2 to 3. Standard TP.
Game 2
Aiton (blue) supershot
Clarke peg high east boundary
Kirby hit from B baulk a few yards out from C3. Ball to 4-back with three balls west boundary south of hoop 2
Fulford hits from A-baulk. Only gets one peel on Keith's ball (9th consecutive hit in this match)
Leave: black on back of hoop1, blue (which is now for hoop 2) near west boundary few yards south of 2, R/Y east boundary with a rush to blue.
Keith misses from 2 to 1.
Chris now has a standard TP to win.
16TP to win 2-0.
Just the presentations to go. Getting cold here, and loooong shadows.
8:37pm finish
---